Varsity soccer slashes Jesuit's undefeated streak
Monday night—Beaverton girls soccer ended Jesuit's 76-game undefeated streak with a 3-1 win over the Crusaders, who have been state champions for three years running. 
A highly anticipated clash between the top two teams in Oregon kicked off to a dramatic start, with both teams jostling for the ball. In the sixth minute, Beaverton scored with a corner kick and some passes that led to junior Natalie Drotzmann's goal. Bouncing off the right post, the ball went in, prompting an eruption of cheers from the student fan section as the team sprinted back to their half, screaming and tripping over one another. This was followed shortly by the Beavers' second goal, a beautiful shot from senior Lauren Ashe into the upper left corner from far out. Virtually unsavable by the goalkeeper, the ball sailed in from 20 yards out to put the Beavers up two to nothing.
After this goal, Jesuit went on an attacking spree, sending its offense up the line toward Beaverton's goal. The strategy, which was meant to catch Beaverton off-guard, didn't pan out and resulted in many offside offenses. Jesuit's opportunities to score on corner kicks and free kicks were all blocked by Beaverton's solid defense. 
"We have a good wall set up and make sure that every player is matched up and following them to make sure that we can clear it before them," said senior Hannah Rice. 
The seemingly endless parade of set pieces for Jesuit ceased at the half without any goals scored for the Crusaders. Beaverton led 2-0. 
Going into the second half, Jesuit built momentum against Beaverton, and the girls played hard to secure possession of the ball. The defenders and midfielders from Beaverton foiled Jesuit's opportunity to get back in the game. In the 56th minute, Beaverton midfielder Audrey Johnson fired off a shot from far out, putting the Beavers up 3-0. Jesuit responded with its first goal of the night in the 68th minute, dribbling the ball into the box for a point-blank shoot-out with the goalkeeper. The game continued to be physical as Jesuit vied to keep their record alive, and Johnson was given a yellow card for tackling a Jesuit player in the midfield. 
Nearing the end of the game, Jesuit grew increasingly desperate to keep its untarnished record and had several close attempts, with one goal deflected off the post at a minute and thirty seconds left to play. At the end of the game, Beaverton fans rushed onto the track for a victory lap with the Beaver flag as the girls' team—now ranked #1 in the state—celebrated their well-deserved win.
Leave a Comment
About the Contributor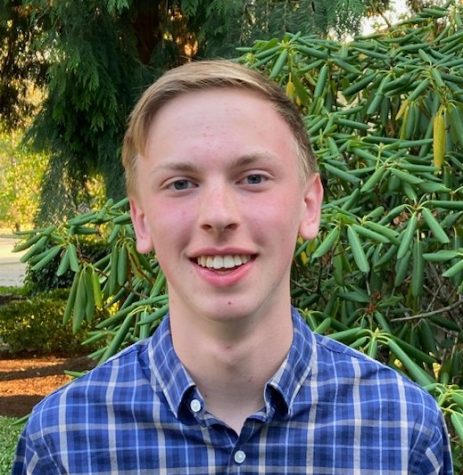 Samson Naleway, Editor-in-Chief
Samson is a junior at Beaverton High School who writes and edits articles for The Hummer. In his free time, he enjoys playing soccer and racquetball.