The Winx Club live-action remake isn't it
If you grew up in the 2000s or 2010s, you probably know that Winx Club is an Italian cartoon about fairies. Remembered and loved for its fun 2000s fashion and use of vibrant colors, it is also known for its ethnically diverse cast of six teenage girls, with three of the girls being of color. The girls even enjoyed different hobbies, giving young viewers around the world, including me, someone to relate to. Growing up as a dark brunette, I always wanted to be blonde like Barbie. But by watching Winx Club, I saw that any little girl could be pretty and fashionable no matter her skin, eye, or hair color. 
Unsurprisingly—if you enjoy animated media and keep up with Hollywood, that is—Netflix is making a live action series of Winx Club. In fact, Netflix released a trailer this past weekend. But the trailer did not spark much enthusiasm, with a like-to-dislike ratio of 65% in January 2021. (The most common like-to-dislike ratio is 90% and above.) This and similar backlash is largely due to the poorly chosen cast. The original cast of six has been reduced to five, with the character interested in technology being removed. The Latina character, Flora, was replaced by a plus-sized white character of a different name, Terra, with similar powers. Meanwhile, the Asian character, Musa, is played by a racially ambiguous actress. The only person of color retaining her original race is Layla/Aisha, the Black girl. 
This is a clear-cut case of whitewashing. Netflix could have easily casted a plus-sized Latina girl, so why did they not? Netflix could have easily kept that character's name, so why did they not? Netflix didn't want to produce a show loyal to Winx Club. Otherwise, it could have been titled differently, such as with the Taiwanese drama Meteor Garden, which was loosely based on the Japanese manga Boys Over Flowers. Hollywood knows nostalgia sells—as evidenced by its innumerable sequels to popular movies—so it's nonsensical to have such an extreme deviation from the original show, especially when the remake rides on the original's name with the title Fate: The Winx Saga. 
Casting a person of European, Hispanic, and Asian descent like Alisha Applebaum opens doors to representation of an often overlooked racial group. Sadly, given the casting choice with Flora (now Terra), it does not appear that Netflix aims to represent multiracial people. Musa was clearly Asian in Winx Club, with her formal wear even incorporating Asian elements. While multiracial representation is important, Alisha Applebaum appears Caucasian at first glance, allowing her to play a role in whitewashing a character intended to be Asian. 
Whitewashing is no rare phenomenon. Just take a look at the live action remake of Avatar the Last Airbender (Katara and Sokka are Inuit), and Ghost in the Shell (takes place in Japan), or The King and I (stars a Thai king), and Prince of Persia (story about a Persian prince), and The Lone Ranger (stars Native American). This lack of representation harms children of color because it doesn't give them someone to identify with. By giving children of color representation, we avoid repeating the results of the Black doll test of the 1940s, where Black children attributed positive characteristics to white dolls with blonde hair and negative characteristics to Black dolls, even though they identified with the Black dolls. Children tend to mimic characters and want to be like characters on TV: it's how beauty is promoted and how children pick role models. In short, representation promotes self-acceptance—a message Winx Club aims to spread. "The appeal […] is due to the fact that the audience can easily identify with each one of the fairies […]  as a different character, with a different, very distinct look," said Iginio Straffi, creator of Winx Club. Yet somehow, Netflix refused to do the same for the teenagers and young adults comprising the target audience. 
"
The only thing that separates women of color from anyone else is opportunity. You cannot win an Emmy for roles that are simply not there.
— Viola Davis
Whitewashing doesn't only cause damage to children of color. It also kills job opportunities for non-white actors. As Viola Davis, a Black actress, pointed out in her 2015 Best Actress Emmy Award acceptance speech, "The only thing that separates women of color from anyone else is opportunity. You cannot win an Emmy for roles that are simply not there." 58% of actors are white, offering them numerous opportunities for roles. As a group, it doesn't hurt to lose one or two roles. People of color, on the other hand, are rarely in lead roles, and when they should have lead roles, white people play them instead. That adds insult to injury to their already diminished career opportunities, and it adds insult to injury that children watch people falsely representing their race in the media they consume.
While Fate: The Winx Saga's casting is a small part of Hollywood's long-standing tradition of racial insensitivity, it's still a situation that everyone can learn from. The original series gives girls of all races someone to identify with and look up to. That is something every show, especially those geared towards children, should aspire to achieve.
Leave a Comment
About the Contributor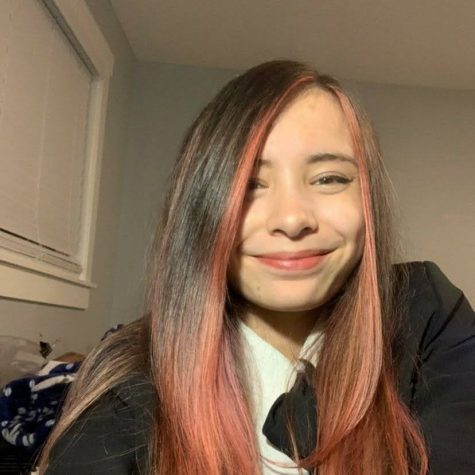 Jayda Maelani Salting, Staff Writer
A sophomore at Beaverton High School, Jayda creates art for some of The Hummer's articles and writes opinion pieces. She enjoys dark academia, cottage...