Book Review: "Foul Lady Fortune"
This review contains spoilers for "These Violent Delights" and "Our Violent Ends" by Chloe Gong.
"Time travels in diverse paces with diverse persons.
I'll tell you who Time ambles withal,
who Time trots withal, who Time gallops withal,
and who he stands still withal."
-William Shakespeare, "As You Like It"
From "Romeo and Juliet" to "As You Like It," author Chloe Gong has been employing the works of Shakespeare. In the "These Violent Delights" series, a 1920s retelling of "Romeo and Juliet," a blood feud between two gangs leads the whole city of Shanghai into violence and chaos. Juliette Cai is the heir of one of Shanghai's leading crime syndicates—the Scarlet Gang. On top of that, she is secretly entangled with Roma, the successor of the White Flower Gang— a rival of the Scarlet Gang. The duology ends when the two selflessly sacrifice themselves in order to save their city from ruin.
Foul Lady Fortune, a retelling of As You Like It, is told from Juliette's cousin Rosalind's perspective. It is now the 1930s in Shanghai, and there are new, dangerous political groups moving toward the city. The Scarlet Gang has now dissolved into the Kuomintang Party (China's leading nationalists), and the White Flowers have disbanded. Rosalind finds herself working as a spy in the Kuomintang. Her mission becomes complicated when her handler assigns her to a fake marriage with a man she is unsure she can trust—Orion. Things seem less black and white as secrets are uncovered, and the two become much closer. The question is: who can Rosalind trust?
Foul Lady Fortune is full of intricate, detailed bits of history, many of which I never knew or heard about. The novel speaks to the extent of Western imperialism and the effect of the Europeans controlling Chinese politics. I constantly found myself looking up references and was shocked to learn of Europe's actions. Foul Lady Fortune managed to combine Shakespeare's classic story and China's complicated twentieth-century history. 
I also enjoyed the deep layers of the characters. Sure, the These Violent Delights series featured Rosalind, but I didn't know much about her. I didn't feel the strongest about Rosalind in the original duology, but I can safely say that I grew to love her. The novel criticized many themes of patriarchal gender roles, and Rosalind quickly became a woman I knew I could look up to. With in-depth dynamics, Foul Lady Fortune had complex character backgrounds. I learned of Rosalind's past, trauma, little habits, and much more. I also enjoyed how the characters from These Violent Delights made an appearance.
Despite enjoying past characters that reoccurred, I was thrilled when new characters were introduced. Chloe Gong managed to keep the reader interested in both new and familiar characters.
The most appealing part of the novel was the romance. The romance was fresh and avoided the painfully corny writing featured among many YA books today. It felt like emerging out of the water and taking a deep breath. There were no overdone clichés and lack of chemistry. The reader gets to see a deep connection between Rosalind and Orion. Foul Lady Fortune didn't skip straight ahead to the part where Rosalind and Orion would get together; it explored the rich conditions between these two elaborate characters. 
Foul Lady Fortune is a story in a story. From detailed history, characters that will surely resonate with you, and unique romance, Foul Lady Fortune is a wild ride from beginning to end. If you enjoy lengthier YA books and want something new and original, Foul Lady Fortune should be added to your TBR list.
Leave a Comment
About the Contributor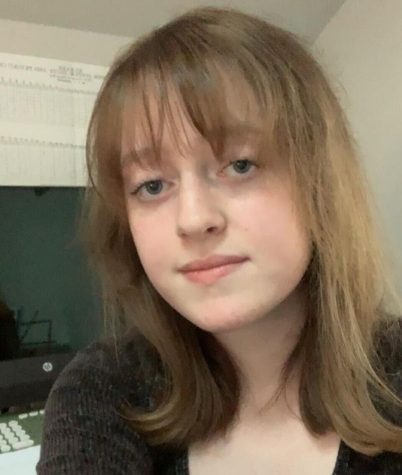 Cassandra Kain, Staff Writer
Cassandra is a junior who currently writes reviews for The Hummer.