Beaverton School District Honor Band puts on an incredible show
On January 11th, I had the privilege to see the Beaverton School District Honor Band perform. Aloha High School hosted the Honor Band this time around, with Aloha band director Aliyah Jackson coordinating the high school band and Highland Park band director Mandy Burton coordinating the middle school band.
Honor Band is a program where band students from middle and high schools around BSD get together and prepare three to four songs in a month. While many band students are required to audition, only a few are invited to participate.
This year's high school Honor Band was directed by Pat Vandehey, who taught at Aloha and Westview High Schools for fourteen and nine years, respectively. He also taught at George Fox University for fourteen years and is an Associate Professor of Music and band director at Portland State University. Adding to this staggering list of accomplishments is the fact that he has lead his bands to win first place at the OSAA Band Championships four times. The guy's got skills.
I never would have gone to this concert had a friend not persuaded me to attend. Band music, I thought, wasn't my thing. I expected plain music and a satisfactory performance, but nothing extraordinary.
I went into the concert prepared to be bored. "Into the Clouds" by Richard Saucedo was the first piece listed in the program for the middle schoolers to play. A simple title for a simple song, I thought. After a couple of lengthy speeches during which the conductors were introduced and innumerable people expressed their gratitude, the lights dimmed and the middle school band took the stage.
They started to play.
I was floored. It was so, so, much better tan I expected. And this was the middle school band. As I frantically reassessed everything I knew about band concerts, I concluded that the high schoolers would be even better. My brain did not compute.
As the middle schoolers exited the stage and the high schoolers took their places, I braced myself.
If the middle schoolers floored me, the high schoolers left me beyond speechless. The processes in my brain ground to a halt as the concert started with an eight-minute piece called "A Boy's Dream". The band followed with the critically acclaimed "Wayfaring Stranger", played an unbelievably fast "Firefly" by Ryan George, and ended with "The White Rose," a Sousa march with a challenging key signature. After some thundering applause, director Vandehey had the band play the end of the march a second time. The audience clapped along, showing the strong connection the band had already formed with the crowd.
To the untrained ear, these pieces sounded complex. But as someone who's taken piano lessons for the past eight years, they were beyond difficult. The speed at which some of the pieces were played was mind-bending, and the part of a single instrument would have taken months for me to learn. 
Honor Band musicians learned these songs on their own and put them together during the week of the performance. Not only did they have a mere month to perfect four college-level pieces, but they also rehearsed together for nearly twelve hours. 87% of that time was in the week leading up to the concert, making some rehearsals over three hours long. They even missed a day of school to rehearse. Meanwhile, I struggle to practice for more than an hour at a time.
These students are dedicated and skilled. BHS players included Lucas Voeller (senior), Anouk Clendenning (sophomore), and Kyah Wright (junior) on the clarinet, Michelle Majors (junior) on the oboe, Emile Bejarano (freshman) on the trumpet, and Matthew Spickelmier (junior) on the flute. Spickelmier and Bejarano went on to play in the All-State Honor Band a week later after having passed a tough audition earlier this year. And let's not forget BHS band director Mary Bengel, who encouraged her students and invited clinicians to help them with the audition music. 
Even if you don't think it's your scene, attend the concert next year. Take it from someone who was unsure: Honor Band is amazing and you'll have a great time.
View Comments (1)
About the Writer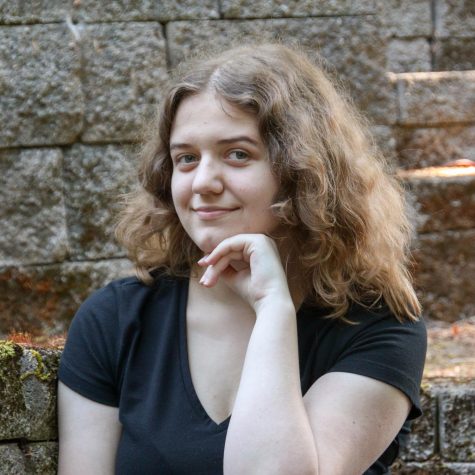 Melody Cosgrove, Editor
Melody is a senior at Beaverton High School who edits and writes opinion pieces about the school. She also enjoys both watching and performing in theater...