BHS Band wows at Winter Concert
Beaverton High School's band program is a longstanding tradition that has placed a love of music in generations of students' hearts. Today, Beaverton's band program is small but mighty, suffering losses of students to the boundary changes. However, students still work hard to perfect their music and showcase them to their families and peers.
On February 21st, the band program put on a concert to showcase the music they are perfecting for the upcoming festival season. As always, the jazz band opened the concert, playing fun selections to warm up the audience.
Concert Band followed with "Carolina Legend" by James Swearingen, a joyful, peppy song that was an impressive feat considering that Concert Band was missing sections of their ensemble. Even without the low brass instruments, they created a blend of sound that delighted the audience.
Next, Symphonic Band took the stage to play "Aventura" by James Swearingen, an upbeat piece allowing me to imagine myself trekking through the wilderness.
Due to their low numbers, Concert and Symphonic Band came together to play the next two pieces. Neither band had been able to practice the music all the way through together before getting on stage, but still sounded as if they had been practicing together for weeks.
The first piece was "Sparks" by Brian Balmages, reminding us that sparks are one small thing that can create a big reaction. After the triumphant finish, the conjoined band followed with a classic, "The Great Locomotive Chase" by Robert W. Smith. With a consistent beat, the piece tells the story of a military raid during the Civil War, in which Union soldiers were pursued by Confederate trains after they wreaked havoc on the vital Confederate railroad. The band nails the piece and earns a rowdy round of applause before leaving the stage for Wind Ensemble.
Beaverton's Wind Ensemble is the top-tier band class. In the spring, students compete at festivals by playing their pieces for judges who score them based on a multitude of criteria. The pieces they play at this concert are those they will present to important members of Oregon's band scene.
The first song is "First Swedish Rhapsody" by Erik Leidzen. This is Wind Ensemble's hardest piece, and their newest. Despite receiving the music only two weeks ago, the song is cleanly executed. Following that, the band plays "Grace of Being" and Gustav Holst's "E flat suite Intermezzo March," both pieces that receive hearty rounds of applause. The hard work these students have put into their craft has paid off, and they seem confident to take these pieces to festivals with them.
This spring, Beaverton High School's choir and band programs will also be going to Disneyland as part of the Disney Performing Arts program. Students will play classic Disney music and perform inside the park for visitors, an exclusive opportunity that Beaverton has participated in every four years.
Send your good luck to the Beaverton band as they travel to Disney and partake in festivals in Oregon. Don't forget to catch this excellent part of Beaverton High School at their next concert on May 21st!
View Comments(1)
About the Contributor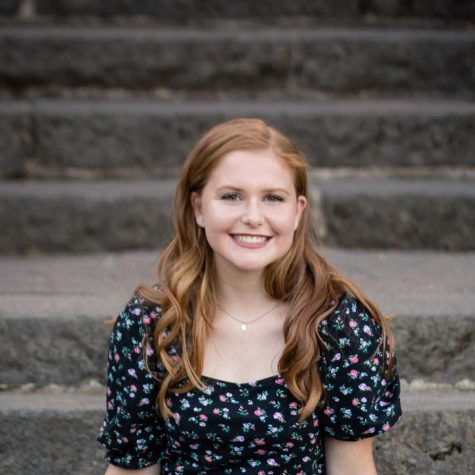 Kathryn Burris, Staff Writer
Katie is a senior at Beaverton High School.