Band, choir join forces in first concert of the year
Last Wednesday, the Beaverton High School auditorium was filled with people. Families, friends, and students gathered to witness the first concert of the year as the BHS band and choir took to the stage to perform what they've learned in only six weeks of practice.
Due to the pandemic, choir and band were unable to perform live for nearly a year and a half, with Wednesday being the second live concert either have had since 2020. Still, both programs prepared and performed pieces that they were happy with.
"We made sure we were playing a repertoire that we were capable of, that wasn't too challenging and nothing too strenuous, either. And we met our goals with flying colors," said band director Eli Simantel.
The concert began with the Concert Band as they performed "Celtic Air and Dance" by Michael Sweeney. The percussion drove the piece through the majestic piece and prompted a rousing round of applause from the audience. This was followed by the combined Symphonic Band and Wind Ensemble's nostalgic rendition of "The Rainbow Connection" from The Muppet Movie.
After a quick break from the music, choir students took the stage, beginning with soloist Kylee Almeida singing "All I Want" by Kodaline and accompanying herself on the ukelele. Following the song, a small vocal ensemble of three students—Priscilla Louise Maanao and Heather McClure singing and Ali Grifka on guitar—performed "Leaves from the Vine" from Avatar: The Last Airbender. 
The two full choirs capped the night, starting with Mixed Choir and their song, "Edelweiss" from The Sound of Music. This expressive song was meant to represent overcoming challenges and finding hope, much like the choir aims to do this year. The Concert Choir, Beaverton's audition-based group, also stunned with "Farther On." Junior Lisa Cook and seniors Skylar Rose and Brighton Davidson gave the song a strong start with their solo, and the music received a round of applause. To finish out the concert, the choirs exited the stage and spread out in the aisles of the auditorium to serenade the audience with a round called "Banaha," a Congolese folk song.
"Amazing," choir director Kelly Hefty said to describe the concert. "I don't think I could have expected anything more, especially considering the fact that we've had to sing outside and we've had to wear masks—it's really hard to be able to hear each other. But I could not be more proud of what the students have been able to pull off in such a short amount of time."
Senior Skylar Rose, a member of both choir and band, was also positive. "I could hear there were just little mess-ups, but nothing too bad. I think it went really well."
This was not only the first concert of the year for students, but for the directors as well. Both are part of a large group of new BHS teachers and experienced the magic of the first concert along with students.
"It's my first concert as a band director, so I was nervous," said Simantel. "And I think a lot of the kids were nervous, too, given that it's their first concert back in person after almost two years. But I think we didn't set ourselves up for failure."
This year, both directors are focusing on growing their programs, which have taken a hit in numbers due to the COVID-19 pandemic.
"I want [the band] to grow," said Simantel. "I just want people to know that band is happening, that band is back, and that they're welcome to join."
One of Simantel's efforts to grow the band program is starting up an after-school jazz band as the marching band season winds down, with the first rehearsal on November 15 in the band room. Also planned for the future is a Winter Percussion ensemble and small ensembles of instruments specifically for the holidays. And for Hefty, growth is a matter of spreading the word that the choir is still active. Students and families can look forward to more choir performances this year for the community at large.
"It's just so exciting to be back in front of an audience and playing in front of people and have faces looking back at you—face to face—while you are making music for a group of people," said Simantel. "It is so much better than playing on screens for people. Although it's a necessary thing you have to do sometimes to be safe, it is nice to be back."
Leave a Comment
About the Contributor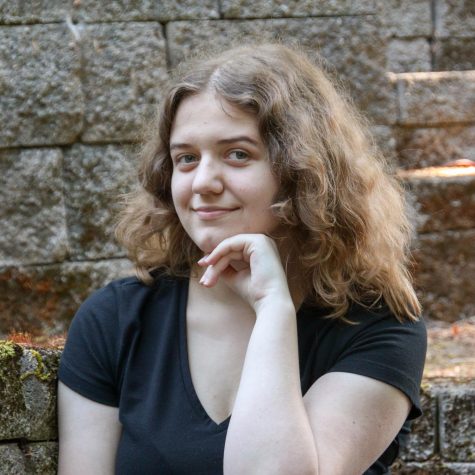 Melody Cosgrove, Editor
Melody is a senior at Beaverton High School who edits and writes opinion pieces about the school. She also enjoys both watching and performing in theater...