Beaverton students spread holiday cheer to those who need it most
The best part of the holiday season is arguably giving and receiving gifts. Opening a present from a friend or giving your mom that sweater she was eyeing for months are cornerstones of our holiday traditions. And while to many, the holidays are relaxing and exciting, some find them stressful, trying to buy extra gifts to fulfill the pressures that the holiday frenzy creates.
At Beaverton High School, clubs, classrooms, and individuals have taken time to care and support those who may not be as fortunate. Beaverton's Club Hope, a club run by Ms. Rita Morgan to support the homeless population at BHS, has been busy this year. In addition to providing necessary items to students, Club Hope has been hard at work advocating its cause by creating its own website and appearing on KATU news this past week.
Students Kenna Reid, Reyna Ayala, and Samantha Miller spoke on Thursday about Club Hope and its mission for the campaign #KindisBetter, a movement "committed to connecting with local youth to better understand their mental, emotional, and physical health needs." The club is reaching out to other schools in the area to introduce more Club Hopes to support homeless students in Beaverton.
Beaverton leadership and the National Honor Society teamed up this Tuesday to help sponsor and volunteer at the third annual Sock Drive during the boys' basketball game. During halftime, the crowd threw socks into the center of the court to win a prize and donate fun socks to Doernbecher's Children's Hospital. The Sock Drive is organized by Andie Proskus, a Beaverton graduate with muscular dystrophy who has been in and out of the hospital over the past couple of years. After receiving a pair of fun socks that made her smile, she was inspired to pay it forward to hospitalized children. This year, Beaverton collected 643 pairs of socks to add to Andie's goal of 8,000.
There are numerous other opportunities to volunteer and provide gifts, meals, and a smile to people in need in the Beaverton High School community. Classes have "adopted" families to provide gifts for them during the holidays. Every year, paper snowflakes hang in Senior Hall for students to take and provide a specific gift for an anonymous student or member of the community.
Take some time this season and give back. A simple Google search pulls up dozens of opportunities for donations and volunteering. Remember, a smile is a great way to provide some holiday cheer.
Leave a Comment
About the Contributor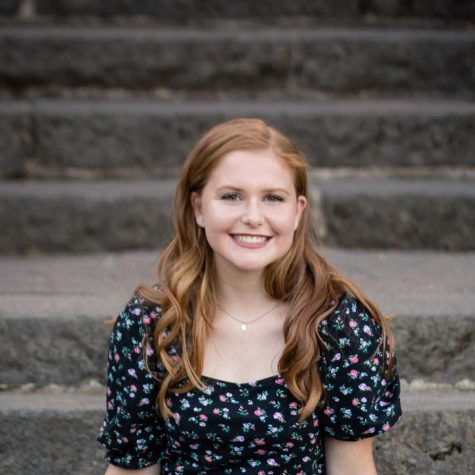 Kathryn Burris, Staff Writer
Katie is a senior at Beaverton High School.