A funky Future Day
Well, it's that time of the school year again. Upperclassmen have flashbacks to experiences that were somewhat fun, but consisted of a lot more work than any high schooler should have to do. Presenting…Future Day.
Freshmen, the sheep of the school, are excited for the opportunity to "miss" school. Little do they know, they are about to do a lot of CIS work. Sophomores, hopeful of a different outcome, face the same fate.
The most frequent complaints regarding future days are about the CIS work that has to be done following the business and college visits. Unless students visit a campus or a business site that is not particularly interesting, it tends to be fun and helpful at providing a glimpse into college life and work life.
In the past, freshmen would visit a college, determined by a class-wide vote. The same democratic approach is taken for sophomores, who visit a business instead. The idea is that they do the visit for most of the school day. When they return, they go to their Beaver Lodges and do their CIS work: CRLEs and whatever else has to be done).
This year, the school deviated from the usual Future Day plans. Rather than have freshmen go to the college they decided on, and sophomores do their business visit, both groups visited a business.
The visiting options that the school had included some interesting places. Some of them inspired students to pursue a newfound passion. Others did not have the same effect.
Colin Fowler, a freshman, visited Columbia Sportswear. "It was interesting because I got to see the way they make their products, and then the presentations were interesting," he said. "They couldn't show us a lot, but I definitely learned something."
Fowler participates in the marketing program, but he said wouldn't pursue this. "I kind of know what I want to do, but you don't always get what you want. It's cool to see the different experiences and how they market their products. I'm taking a marketing class, so it's cool to connect that."
Kai DeCarli, a sophomore, visited Tualatin Valley Fire and Rescue. "It was pretty fun," he said. "I got to spray a firehose and take a car apart using the tools that they use."
Some businesses provide hands-on experiences, which helps provide a deeper level of understanding of what is done. But DeCarli said he thinks the logistics of Future Day should have been better thought-out. "I think it should be flipped so that freshmen go to an industry and sophomores go to a college because freshmen aren't going to be thinking about college at this age."
As much as people might hate Future Day, it has some value. Students get a firsthand look at certain career paths. They can't teach us that in a classroom. Future Day this year, like every year, was a success. And moving forward, it will continue to be successful.
Leave a Comment
About the Contributor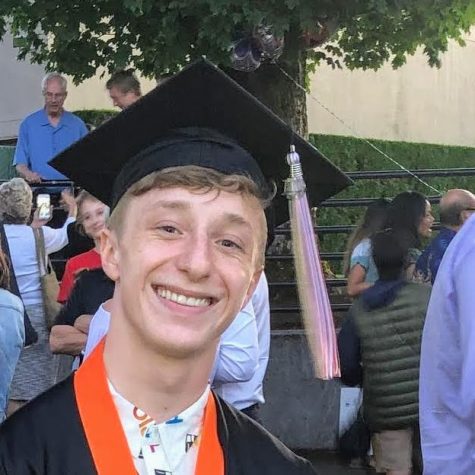 Cooper Graham, Staff Writer
Cooper is a senior at Beaverton High School.