Meet the new reinforcement!
Beaverton takes on a reinforcing amount of new teachers and faculty. Who are they? Where do they come from? We set out to find out their impressions of our school and what they intend to add to our community.
Mr. Balzer, Science Department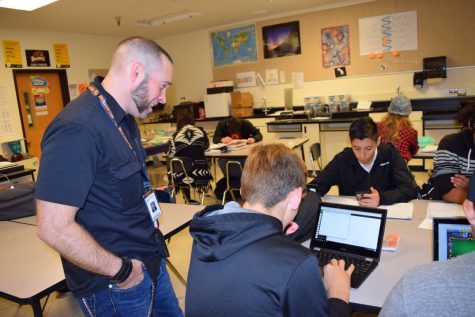 Q: What classes do you teach?
A: "Right now, [I teach] freshman physics and STEM physics."
Q: Fun fact about you?
A: "I'm in two B-Horror movies. They're primitive and out coming now in Lions Gate is The Lighthouse Keeper and Ben Cooper is [the] director."
Q: If you hadn't become a teacher, would you have seen yourself becoming an actor professionally?
A: "There's a lot of options besides a teacher: music, acting, fabrication. I worked in comic books for ten years, coloring Superman, Batman, Wonder Woman, so I have a lot of different directions. This is a place where I can do everything at once."
Q: As a kid, were you a hard worker?
A: "I was not an overachiever. Here's a little-known fact: I failed chemistry and physics in high school. [And now] I teach physics and chemistry."
Q: What does that mean as a teacher? What does that show?
A: "It goes to show [that] if you run into a teacher that does not sync with you, and it just doesn't work; it doesn't mean that stops you from doing what you want to do."
Q: Is there anything else you want the school to know about you as a new teacher?
A: "Just having the impression that I have. I mean right now, I've been through two other schools, and I have been amazed by the amount of spirit here, because I lost my spirit at my last school, and I like dressing up. […] When I came to the first rally here, I was kind of just dumbfounded, going, "Wait, people know the alma mater? And they're singing it? And the cheerleaders are all doing things at the same time? And people are clapping?!"… I've been really excited to be part of that."
Mr. Curiel, Mathematics Department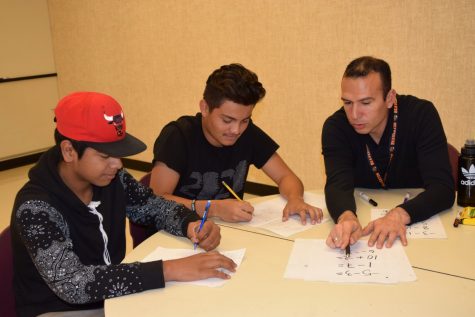 Q: Advice for students taking your class?
A: "Number one advice would be to have a positive attitude toward learning math. Many students think math is out of their reach and don't engage fully in it."
Q: Is there something you would like the school to know about you as a new teacher?
A: "I am an OSU graduate (Go Beavs!), so I'm happy to be a Beaver once again."
Q: What is your ideal vacation?
A: "A mix of sightseeing and also relaxing by the beach or pool."
Mr. Colby Neal, Learning Strategies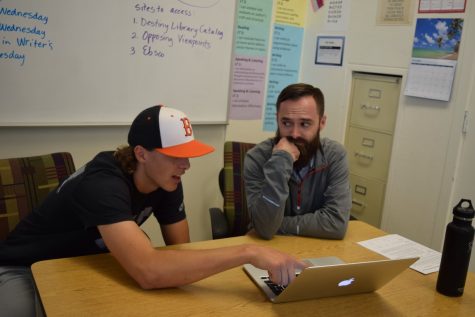 Q: How did you get into teaching?
A: "I've always wanted to be a teacher; I'm kind of one of those weird guys who likes being in school. Like, if I won the lottery, I would just be a student. That's all I would do: I would just pay the best person who knows the most about a certain subject and just say 'teach me'…"
Q: Do you think it's important that teachers understand the different situations that their students have, or do you think that at times, that can get in the way of what the purpose of [the] class is?
A: "I think acknowledging those differences can only enhance the classroom… I grew up in Eugene, Oregon. It's a very diverse group of white people. We all think we have really diverse ideas, however, we all think the same. And then when you meet people from different cultural backgrounds; from a different city, a different state, a different country even, you are able to learn so much more. And that's one thing that I like about being able to talk about our lives outside of school… We [have] kids who have really adult responsibilities, and that needs to be acknowledged, and it will [do] nothing but help other kids that don't have those obligations understand that life is bigger than social media; life is bigger than Call of Duty."
Ms. Bafaro, Counseling Department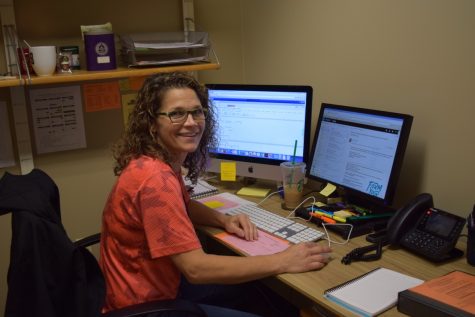 Q: What is your role at our school?
A: "[I am a] Counselor E-K."
Q: If you had a time machine, where/when would you go?
A: "Back to Montana in the 1960s."
Q: What is your favorite thing about BHS so far?
A: "The staff and students–the feeling of school community, support, and school spirit."
Q: Favorite restaurant? Why?
A: "Helvetia: they have giant hamburgers and homemade french fries."
Ms. Haselden, Library Assistant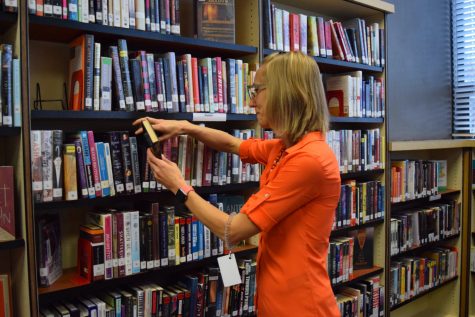 Q: What is something that really stands out about BHS?
A: "I would say tradition and student interaction…I love learning about the Beaver Nation Migration… [and] seeing all the tradition and how strongly people tie into this school and how strongly they feel about this school… Every time I've gone out into the hallways or even in here [the library] kids are so polite to each other and helpful."
Q: Are there any books that are a must-read for all students?
A: "Yeah. I feel like especially at the high school level, Perks of Being a Wallflower is a really great one, just learning how to navigate high school and the world around them and being exposed to new things."
Q: What is your favorite part about being a librarian?
A: "…It doesn't happen as often as I would like, but I love the times we get out on one-on-one; hang out with a kid and they want a book and … they just say 'I need a book,' well just give me just the slightest information and we are going to find you something you'll love because reading is a passion for me. It opened up worlds to me that I never knew were there, and I hope it does that for every other student and any part that I have to play in that, I love."
Mr. Bodine, Math Department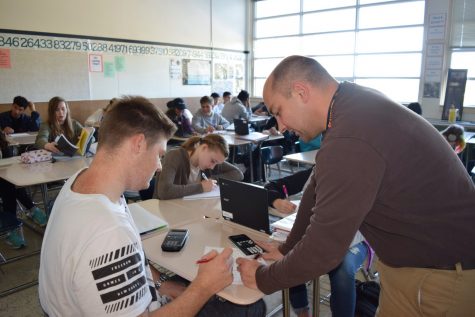 Q: What class(es) do you teach?
A: "I teach Algebra II and Advanced Algebra II."
Q: Do you have interesting talents? If not, what talent would you want to have?
A: "I am not sure if any of my talents are interesting enough to qualify, but if I could have one interesting talent, I would say it would be kind of cool if I could play the banjo with my feet while juggling torches blindfolded."
Q: Is there something you would like the school to know about you as a new teacher?
A: "My dad was one of 18 kids and between all of them, they had 99 kids. So, I have 98 first cousins on my dad's side and I was the 95th born out of the 99."
Q: If you could teach in another country, which country would it be and why?
A: "I would teach in England because everyone sounds smarter and funnier when they speak with a British Accent."
Ms. Rosenberger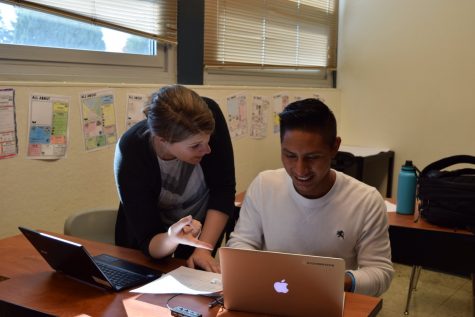 Q: Which Disney character would you be if you could choose?
A: "I have always dreamed of being a Disney character. In fact, one of the jobs I wish I would have mentioned before is that my whole life I wanted to be the voice of a Disney character in a movie. So, one of my more recent favorites would be Anna from Frozen, but also throwing it back to Belle from Beauty and the Beast, because I think she sees the good in people, and I appreciate that about her."
Q: What is your favorite thing about BHS?
A: "I've been super impressed with how much the community supports each other, both at school and at events and around the city. It's been really fun to see students and staff supporting each other. I was in the cafeteria–this is just a short example–and I was choosing between two different wraps, and a kid came up to me that I didn't know, and he was like, 'If you want me to tell you, this one's better than this one,' and I was like, 'Woah! Who's this fifteen-year-old boy giving me menu suggestions in the cafeteria? What a supportive environment.' So, there's been little things like that that have impressed me so far–a lot–a Beaverton."
Q: Do you have any words for your high school self?
A: "Sometimes you have to play the game. I think if I had to talk to my high school self, I would say that 'Your teachers are trying to show you certain things, to teach you what may or may not come up in your life.' There're so many different paths that all of you will take that we can't direct everything at you specifically, and so sometimes you have to do things just to get the practice and just to get the experience, and you have to say yes to things. You will learn something from them if you say yes. The only way that you won't learn is if you just completely avoid the activity, or the task, or the responsibility. So I would say, 'Say yes to as much as you can.'"
Q: What's one thing you want the school to know about you?
A: "One thing that the school should know about me is that I am pregnant with my second child, so I will be growing and needing some help running around the building frantically as I get ready for baby number two."
Leave a Comment
About the Contributors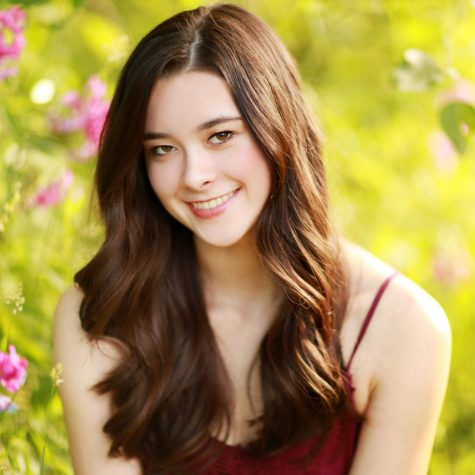 Allison Van Horn, Senior Editor
Allison is a student at Beaverton High School.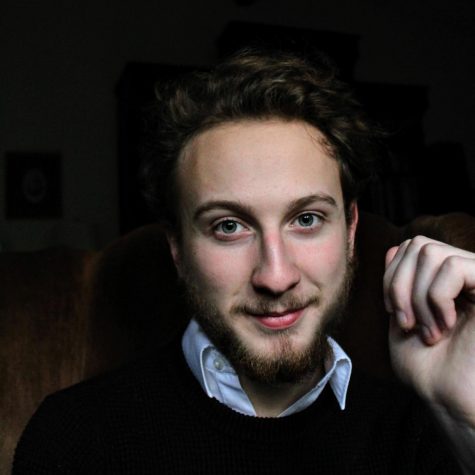 Jono Vincent, Staff Writer
Jono is a student at Beaverton High School.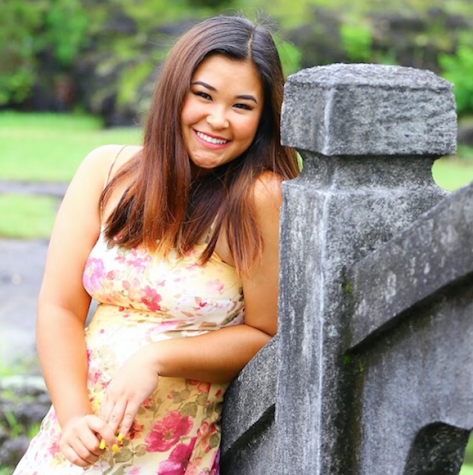 Kimaia Gassner, Senior Editor
Kimaia is a senior at Beaverton High School.