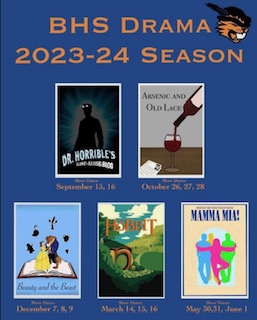 The Beaverton High School Drama Department is excited to announce the upcoming shows for the 2023–24 school year! With all sorts of funny, amazing shows, there is something for everyone. 
From comedy to murder, Beaverton is offering an array of opportunities for viewers and thespians alike. No experience is needed to audition for these shows; just a can-do attitude and a will to learn. Shows will be held in the black box and auditorium which are located near the end of the main building. If you are interested in auditioning for a musical, you must prepare a short song to sing. There is no need to bring any scripts for line reading, they will be provided. For plays, you do not need to bring anything in advance.
"Dr. Horrible's Sing Along Blog"
Audition dates: closed
Show times: September 15, 16
The first show of the school year is coming soon! Although it is too late to audition for this show, it is a must-see if you are into comedies. "Dr. Horrible" is student-directed, with a small cast of eight students. Don't let the small cast fool you, this show is bound to be a blast! The plot follows Dr. Horrible, also known as Billy, as he tries to navigate being a supervillain while also falling in love. He is faced with many trials and tribulations along the way. 
"Arsenic and Old Lace"
Audition dates: September 6, 7
Show times: October 26, 27, 28
"Arsenic and Old Lace" depicts Mortimer Brewster, a drama critic who is forced to deal with his dysfunctional family and police in Brooklyn, New York. During this time, he must also debate if he truly wants to marry the woman he loves. It is a classy, dark comedy dealing with the only thing more deadly than murder: family. First produced in 1941, it was an instant success due to its humor and wit. From silly to downright scary characters, this show has a range of different characters to play.
"Beauty and the Beast"
Audition dates: October 4, 5, 6
Show times: December 7, 8, 9
Who doesn't love a classic princess story? With amazing costumes, dancing, and singing, "Beauty and the Beast" is a show you can not miss. If you have never seen this classic, it follows a small-town bookworm, Belle, when her father is captured by a "hideous beast" and Belle is forced to live with him to save her father. Luckily, she makes the best of this bad situation and finds an unlikely love. This show is full of fun characters with lots of opportunities for solos and ensemble roles. Auditioning is a must if you are interested in a fun, classic musical. 
"The Hobbit"
Audition dates: January 3, 4, 5
Show times: March 14, 15, 16 
Even if you have never read or watched "The Hobbit," odds are that you've heard of it. Just the movie alone has generated over one billion dollars with adoring fans globally. It depicts a fictional world where a "Hobbit" named Bilbo Baggins lives a simple life until he is confronted by a motley crew of Dwarves and a Wizard named Gandolf. Gandolf convinces him to join these Dwarves to reclaim the kingdom of Erebor. This show is full of monsters and fighting scenes. Beaverton is proud to use real, steel swords in their fights to add authenticity. Not to worry: all the blades are dulled down for the safety of the actors. If you are interested in being in or watching a show full of fantasy and magic, then this one is for you. 
"Mamma Mia!"
Audition dates: April 10, 11, 12
Show times: May 30, 31, June 1
If you are a fan of a hilarious story or Swedish pop band ABBA,come see "Mamma Mia!" This sunny tale is set on the fictional Greek island of Kalokairi. On the eve of her wedding, a young daughter invites three men from her mother's past.
Her goal: find her birth father, so he can walk her down the aisle. ABBA's greatest hits tell the story and set the mood for love, laughter, and friendship. This is an unforgettable show with a large cast and explosive dance numbers. Much like Beauty and the Beast, this show has many opportunities for old and new thespians.
No matter what you're into, theater is a fun experience for everyone. Make sure to stop by the department to show your support to BHS. Acting can be for everyone, from jock to bookworm, you may just find a show that you love.