Meet Beaverton High School's new principal
Meet Andrew Kearl, the new principal of Beaverton High School. He's taking over from Dr. Anne Erwin, Beaverton's longtime principal, who retired in June.  
Before coming to Beaverton, Kearl worked in Tigard-Tualatin School District as principal of Twality Middle School for the last three years. Prior to that, he was an assistant principal at Tigard High School. 
Originally from Southwest Portland, Kearl attended Ida. B. Wells High School, known then as Wilson High School. In his senior year, he was student-body president. After high school, Kearl attended University of Redlands, where he received a bachelor's degree in English. He started his career teaching language arts in Brooklyn, New York, while studying for masters in English and education in 2006. 
Kearl has since gone on to work in schools in Denver, Colorado; Seattle, Washington; and now his hometown of Portland, Oregon. Seeing the impact of different education systems on students prompted Kearl to transition from classroom teaching to administration. 
"Everywhere you go you learn a lot about how things operate and about different [student] populations," said Kearl. "It's been cool, and all those [experiences] kind of helped me enter another new district and a new school."
Kearl led Twality Middle School through the construction of a new building. Beaverton High School is set to receive $253 million for a new building from the district bond passed last May. 
Kearl remembers the construction at Twality. "They tore the building down, and then we were in portables on the track. Imagine all of your classrooms on the track behind Beaverton High School," he said. "It was like a portable city that we lived in for a while." 
Fortunately for Beaverton High School, classes will be in the current building during the project. Still, Kearl expects construction on Merle Davies Field to pose its own challenges. 
"It might get loud. It's not going to be exactly the same [as at Twality], but it will be interesting." Kearl has plans to figure out parking, buses and more during the construction. However, Beaverton's reconstruction won't start this year, as the district needs to get more input on the design. 
For now, Kearl's job will be to get acquainted with a post-pandemic school and its complexities. Kearl's message to students is to be aware of the effects the pandemic had on people. It's important to "remember kindness and realize that you don't always know what other people are going through." 
This school year Kearl is looking forward to getting to know the Beaverton community, students and staff alike. 
"I would love it if people came in, said hello and introduced themselves."
Leave a Comment
About the Writer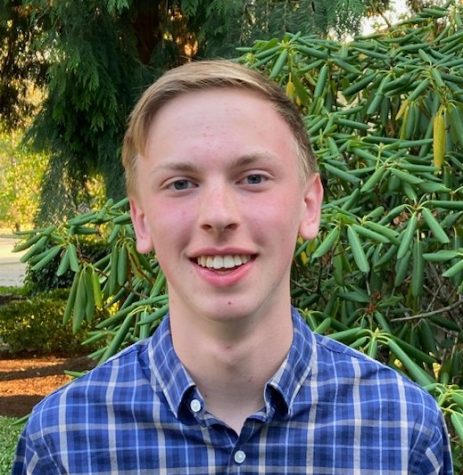 Samson Naleway, Editor-in-Chief
Samson is a junior at Beaverton High School who writes and edits articles for The Hummer. In his free time, he enjoys playing soccer and racquetball.