The sun rises on senior year
It's rare to find 100 high school seniors awake, let alone awake and at school, at 6:15 in the morning. But on Wednesday, September 8, there was something worth waking up early for—interaction. 
A brisk morning, Beaverton High School's football field was veiled with condensation. Congregating in the middle of the football field, members of the class of 2022 joined together for the first BHS "Senior Sunrise." Some brought blankets, others wore fluffy jackets. Some chatted while they stood, others took a seat. 
Members of Student Leadership brought Krispy Kreme donuts for seniors to snack on while observing the slowly brightening sky. Students compared class schedules and lunchtimes, eager to begin school as the sun rose at 6:43 am on Thursday. 
The "Senior Sunrise" is a new tradition for Beaverton High School, and excitement hung in the air with the anticipation of the fresh start.
"I don't think we've ever done this before," said principal Dr. Anne Erwin. "It's a beautiful day to be a Beaverton High School senior."
Students seemed to agree. "It's cute that there's a senior sunrise," said Anna Scherer. 
Ringing in the new school year, all students wish for a more normal high school experience. Hopefully, as normal as a sunrise. 
"Everyone's excited for senior year," said senior Aleah Nelmes. Her neon orange class shirt almost glowed in the dawn, adorned with bold "Class of '22" script on the back. 
A high school event—even a sunrise—would not be complete without group photos and videos. But beyond selfies, students eagerly talked with friends after over a year with little in-person interaction, discussing work, travel, and sports. Some even attended having barely slept the night before.
"I need to go to bed," said senior Salem Bante. "I got 15 minutes of sleep last night." 
Despite the early hour, students believed the senior sunrise was worth making time for. 
"I don't usually get up this early," said Eleanor Kahn. "But for a once-in-a-lifetime activity, it's good to be part of a new BHS tradition." 
Leave a Comment
About the Contributor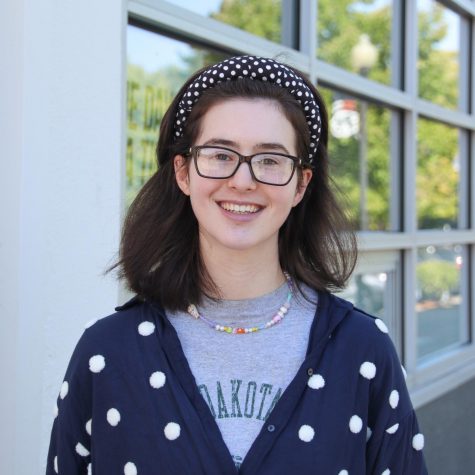 Beatrice Kahn, Editor
Beatrice is a senior at Beaverton High School who edits articles and writes about school district and city news. She loves boba—matcha has her heart!