Virtual band concert spotlights stellar student performances
As with all classes during this school year, Band was taught online until In-Person Hybrid started in quarter four. There were challenges with this method of learning, but band director Mary Bengel still wanted the students to have a concert.
Over the course of a month and a half, she encouraged students to prepare and submit recordings, and she hired editor Scott Saunders to turn the clips into a digital concert. The concert video, which was released on May 19th, features solo and small ensemble pieces from band students set over scenic videos. 
For Bengel, the effort was worth it. "It made me cry. The first opening with the flutes and the music—oh, it was so great."
Wind Ensemble starts off the concert with flutist Josphine Brown playing Tree of Peace by Herman Beefink. The elegant piece was the perfect way to open the concert, and Brown's playing was well-executed.
Another standout was Creep by Radiohead, played by Eoin Layzell on the baritone saxophone. It's slow, mysterious, and—true to its name—creepy. Scenic shots of cities at night serve as the visuals for this piece, and they're a perfect fit. When listening, you feel like you could be walking down the street on a rainy night. While it sounds simple, the piece adds to the enjoyment of this concert with its distinct style.
The concert takes a turn into pop culture as trumpet player Emile Bejarano and pianist Theo Cahall play a rendition of City of Stars from the movie La La Land. Though there are some hiccups in the videos of the two playing, the audio tracks mesh nicely, and the music is engaging and pleasant to listen to.
Wind Ensemble's second-to-last piece is Adagio by Cyrille Rose, played by clarinetist Anouk Clendenning. This lovely composition is reminiscent of sitting on a porch in a rocking chair while listening to the rain, and the middle section draws up imagery of a sun-lit meadow. There are many impressive quick-tempoed sections throughout, and the videos of the ducks accompanying the music are a delight to watch.
Following Wind Ensemble, Symphonic Band took the virtual stage. The segment by Eleanor Teals Kahn playing Barbary Coast by Larry Clark on the clarinet is enjoyable. The music is charming and fast-paced, a breath of fresh air in a sea of beautiful slow songs.
Also from Symphonic Band, Jessica Izquierdo Tinoco played Tango Till You Drop by Richard Kershaw on the alto saxophone. The tango is instantly intriguing: Izquierdo Tinoco builds suspense and is able to execute the relaxed and joyful middle section. Being the only tango in the concert, and performed so well, this performance shines.
Finishing the show is Jazz Ensemble with Blue Tiger, performed by Elvin Choi on cello and piano, Ayame McCarthy on bass guitar, and Andrew Wilson on alto saxophone. The piece is refreshing and distinct, and occasional errors in tempo are made less noticeable by the jazz's forgiving style. 
Despite online limitations, the concert was a wonderful experience and shows off the hard work band students have been putting in despite learning online for most of the school year.
"It was optional, so I'm very proud of them for preparing a lot on their own and being brave," Bengel said of the students. "It wasn't perfect, but no one is perfect. Just doing it, playing it, and being happy with the work that you did is more important than anything."
View Comments (2)
About the Contributor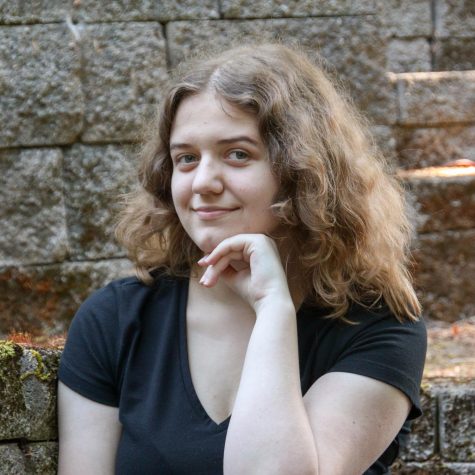 Melody Cosgrove, Editor
Melody is a senior at Beaverton High School who edits and writes opinion pieces about the school. She also enjoys both watching and performing in theater...