Warriors of sound and rhythm show off their skills
As all things have been lately, the BHS bands were rattled by the events of the fire. But they pulled through and conquered their limitations—mainly that many had zero access to their instruments for weeks and that the auditorium was nearly rendered inaccessible for their performance.
Despite the odds, the bands pulled through and gave their winter concert on the night of February 27, right on schedule. Though they were forced to spend time in the Mindfulness room until the band room was reopened, it was hard to tell that they had lost two or three weeks of rehearsal time. All three bands—the combined Concert and Symphonic Bands, Jazz Band, and Wind Ensemble—did an excellent job. Their dedication to their classmates and their music was evident.
The combined Concert and Symphonic and Bands opened the show with some great pieces, starting with "Into the Clouds," an energetic piece in which the melody was passed around the band. They then moved into "Unraveling," where the musicians not only played their instruments but also sang and buzzed through their mouthpieces to show the increasing disorder the piece portrayed. The final piece was Pirates of the Caribbean. The combined band played well despite having rehearsed once together and had the audience engaged from the first few measures.
The Jazz Band stood out. Their music was well-rehearsed and catchy, even though they only had clinician Tina Richerson to lead rehearsals half of the time. In one piece, senior Michael Schuster sang with the band.
Wind Ensemble, too, shone. They kicked off their part of the concert with a strong and confident Flourish for Winds and moved on to Culloden III, a lengthy piece that could qualify the band for the state competition. Rhosymedre by Ralph Vaugh Williams was next, which the band nicknamed "Rhosy" to avoid butchering the pronunciation. It was fun to listen to, not to mention impressive.
Wind Ensemble's final song was a favorite of the night: Standby March by Louis Castellucci. The song was peppy and exhilarating, and the band clearly put a lot of care into it, keeping the audience tapping their feet to the beat.
Their incredible performance is a good thing: On February 28, the Wind Ensemble will compete in a music festival held at George Fox University. The concert is a solid start to what is sure to be a wonderful festival season.
View Comments (1)
About the Contributor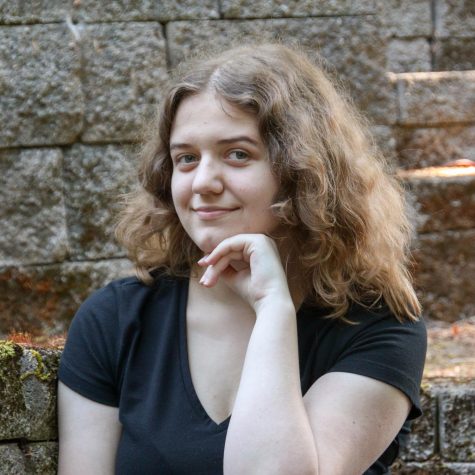 Melody Cosgrove, Editor
Melody is a senior at Beaverton High School who edits and writes opinion pieces about the school. She also enjoys both watching and performing in theater...