Tea and coffee for two: eastside roasteries and teahouses
Portland. P-Town. Stumptown. Whatever you want to call it, one thing is for sure: it's a hipster city. But this hipster city isn't just known for its dogs, bikes, and bridges. It's also known for its abundance of coffee and tea shops. And not just Starbucks or Dutch Bros. There are quite a few businesses started by Portlanders themselves.
While some people are perfectly content with their standard cup of joe, there's a wide variety of coffee styles. From cappuccinos and macchiatos to iced coffee and cold brew; people have gotten bold with their coffee concoctions.
When it comes to exploring these creations, it's important to know what businesses specialize in making what beverages. Here on the Westside, we are fairly familiar with the local roasteries and teahouses. But the somewhat unknown Eastside has some interesting coffee and tea places that have quality beverages for great prices, with environments of all sorts.
For the cold brew fans out there, Stumptown Coffee Roasters(on SE Belmont street) is a must. They put a lot of time and thought into the brewing process, yielding a smooth, fairly rich, and refreshing cold brew that is on a whole other level. The flavored syrups that they use could be a bit stronger, but for anyone who doesn't mind a bit of an ACTUAL coffee taste, it should be right up your alley. This particular shop had a great counter setup and bar setup and provided ample space for anyone looking to socialize or get some work done.
For the health nuts out there, tea is probably their, well, cup of tea. Don't worry, we got you covered. Introducing, The Tao of Tea(on SE Belmont street). Words can hardly explain how incredible this teahouse was. With their first teahouse being opened here in Portland in 1997, the authenticity is incredible, with each tea being handcrafted using ancient methods particular to the the place of origin of the tea leaves. All of it is organic and they advocate sustainability when it comes to farming.
Not only are the teas and methods authentic, but so is the décor. Displaying a number of the cultures of Asia throughout the teahouse, it is incredibly peaceful and relaxed, achieved through the use of soft music and a miniature waterfall. The chai mate tea with milk and honey was divine, with a smooth texture and a flavor that was warm and sweet. The perfect balance of milk and honey accentuated the flavor of the tea itself without drowning it out. This is the ideal place to go when you're stressed and/or craving some high-quality tea, and even Allen Bakira, an infrequent tea drinker, was awestruck.
Anyone who's in a low-key party mood or a kickback mood can appreciate the environment and service at The Pied Cow(on SE Belmont street). The décor is very unique, with backyard party lights, mannequins(most of which are headless), strange pictures and a baby doll with jewelry. The coffee is pretty good, but they offer a variety of beverages. It's definitely meant more for those who are 21 and up, but teenagers don't seem to stand out too much. All in all, it was a pretty good experience, with a vibe that allowed us to converse fluidly.
People never seem to have the time to sit down and have tea or coffee while working or talking with friends, and when they do, they don't always sit down with a quality cup of tea or coffee. These three businesses can achieve just that. If you're ever on the Eastside, stop by these locations. You won't regret it.
Leave a Comment
About the Contributor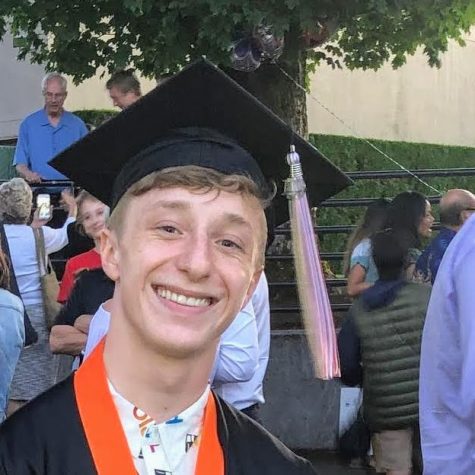 Cooper Graham, Staff Writer
Cooper is a senior at Beaverton High School.