Thai Hi-Five: a review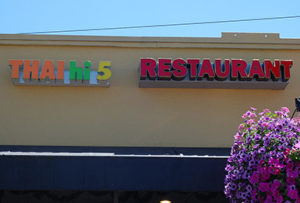 The chime of the door when you walk in is sweet and simple, greeting you into the small and cozy restaurant. There's soft acoustic music playing, along with statues, and banners written in Thai as well as a sudden feeling of home.
Scanning over the menu, they have appetizers such as egg rolls and salads, as well as entrees from pineapple fried rice, yellow curry, to a classic pad thai. A large menu features staples of Thai cuisine, perfect for any guest's taste buds. Throughout the week if you go for lunch, they offer two soups, one being tom yum; a hot and sour soup, clad with tofu and mushrooms, or a simple chicken and rice soup. They also have a simple salad with the best warm and chunky peanut sauce on top.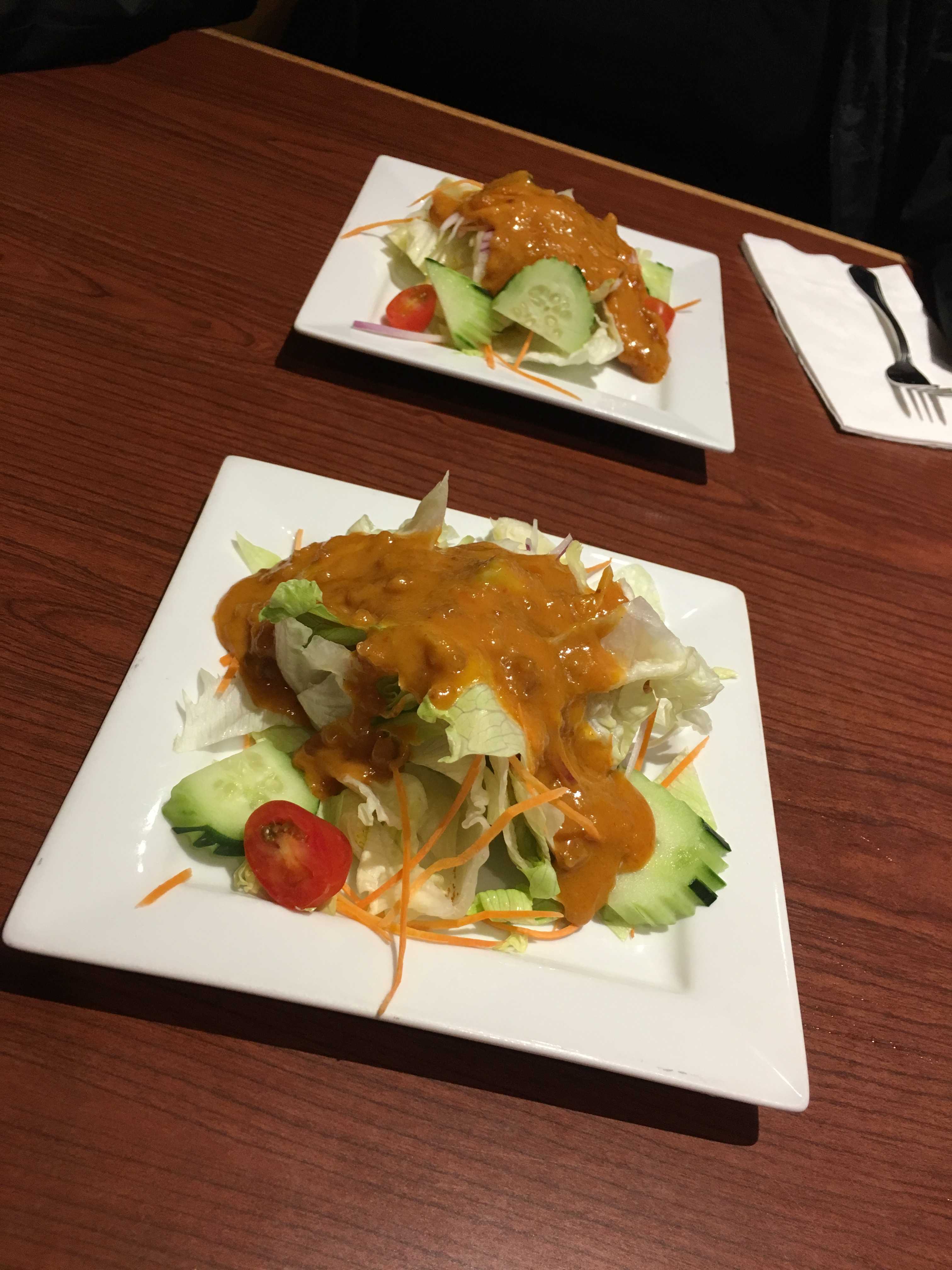 A simple salad with peanut sauce. (Photo by Mercedes Gray-Davis).
Within a few minutes of ordering, my plate comes and I cry. My go-to is always, without fail; hot tofu pad see ew with no egg. The noodles are coated in a classic sweet pad see ew sauce that you can have either mild, medium, hot, or extra-hot for any dish. With plenty of broccoli, carrots, cabbage and fried tofu pieces along with the fat, chewy noodles, this dish is sure to satisfy. For only $7.50 for lunch that includes a soup or salad and an entree of your choice, you have no choice but to go. For dinner, no soup or salad is freely included, but for $10.50, you get a much larger entree.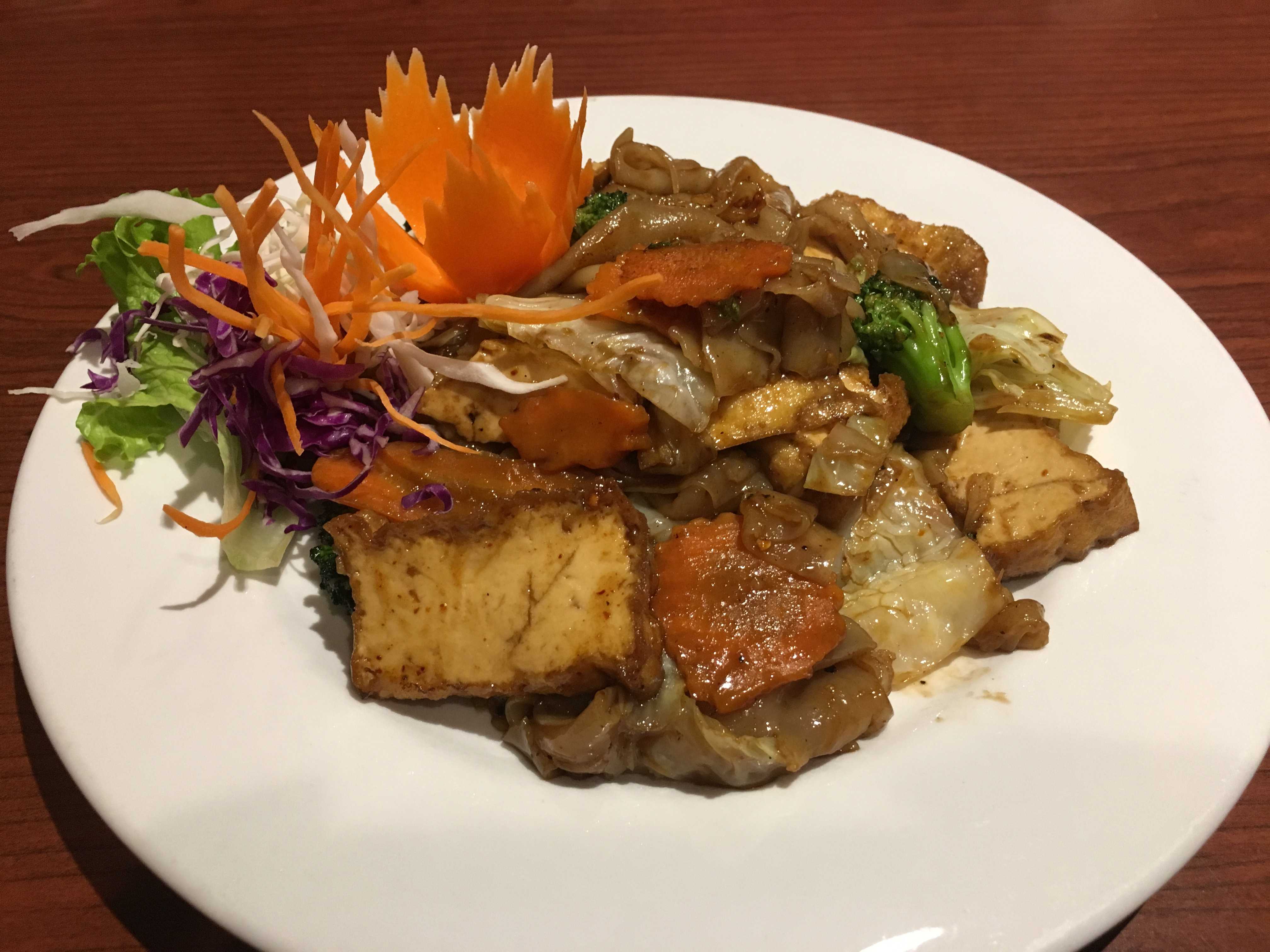 The legendary tofu pad see ew. (Photo by Mercedes Gray-Davis).
The entirety of your visit will be comprised of excellent service, friendly staff and an entire plate of hot sauces to choose from, like sriracha, chili oil, chili sauce, and more. So you're definitely gonna miss out on a lot if you don't go. Everything about Thai Hi-Five is just right. Many other places have too much sauce or not enough sauce, or even no flavor at all. This local joint isn't only the most delicious Thai restaurant in the entirety of all the dozen local Thai places, oh no. Dare I say it's the best restaurant ever.
Leave a Comment
About the Contributor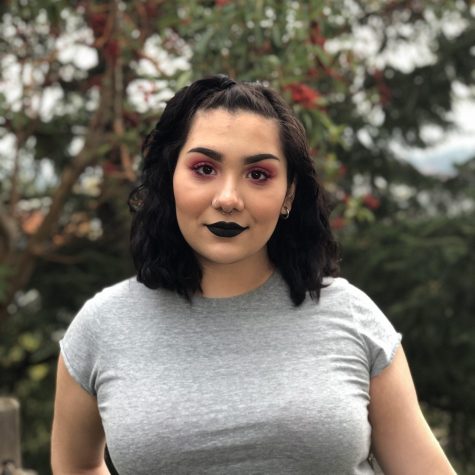 Mercedes Gray-Davis, Staff Writer
Mercedes Gray-Davis is a senior at Beaverton High School.