Blade Runner 2049 review: a visually stunning masterpiece
After years of anticipation, Blade Runner fans finally have a new film to sink their teeth into. The original film was directed by Ridley Scott and released in June 1982. Thirty five years later, Denis Villeneuve followed up with the second film in the sci-fi action thriller franchise.
The 2-hour 44-minute film features a talented cast featuring returning star Harrison Ford alongside Ryan Gosling. While the acting is not quite as impressive as in the original, the film is still captivating from start to finish. At glance, the 2-hour 44-minute film may seem dragged out at times, but Blade Runner is a true cinematographic masterpiece, and worth every minute.
Creating the sequel to a masterpiece is not an easy task. Blade Runner is revered by many as one of the best science fiction movies of all time. Its deep themes and the thought-provoking storyline is still relevant today. With a very talented team and cast, the new film is undoubtedly a worthy sequel. It manages to build off of the profound themes of emotion and what it means to be human. Few sequels are as thematically and visually impressive as Blade Runner 2049.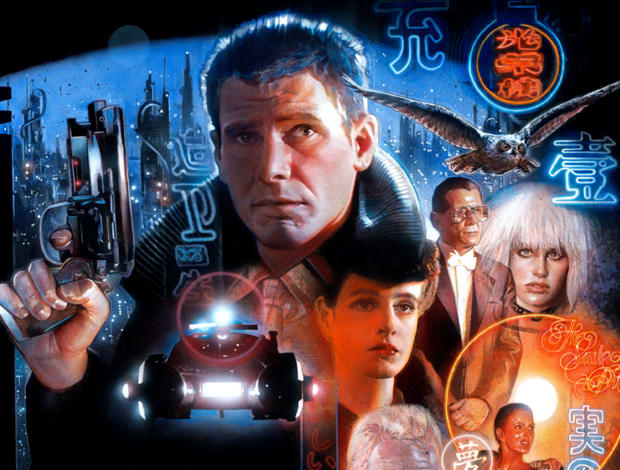 Original film promotional art. (Photo courtesy of Movie Pilot).
Although the film has a new director and a mostly new cast, it is a seamless continuation of the original film. The unique eerie, dark mood is replicated beautifully. Breathtaking cinematography and a masterful soundtrack are key features of the film. The synthesizer-based score was reminiscent of the critically acclaimed soundtrack of the 1982 film. Several songs composed by Jóhann Jóhannsson immerse the viewer into the film adding that much more to an already visually compelling film. The appealing aesthetic of the film, in combination with the prodigious soundtrack constantly has the viewer on edge.
Blade Runner 2049 is worth watching if you are willing to let your mind be stretched at the mercy of the intricate plot. On an important side note, watch the original first! The experience is greatly improved and it allows for you to truly appreciate the mastery of Villeneuve in revitalizing one of the most distinct cinematic settings ever conceived. Yet again, the Blade Runner franchise was able to astonish the masses with a clear visual masterpiece. Receiving substantial amounts of positive feedback, it's safe to say the sequel wasn't a let down by any means.
After nothing but a quality viewing experience, its apparent Blade Runner 2049 is worth every minute of the lengthy 2-hour 44-minute film. Thanks to astounding visual components, alongside a very talented cast, Blade Runner 2049 is well worth viewing!