Technology for the holidays: a review of the newest tech
Would you like a headphone jack with that, sir? Or perhaps a waterproof screen? How about the latest and greatest laptop? Whether you are in need of new technology or just want the latest and greatest, we have you covered with laptops, desktops, phones, and tablets for the upcoming holiday bonanza. Unspent gift cards and college are a great way to have an excuse to buy a new laptop. There are even discounts for students! Just be sure not to rip a hole in your wallet.
This holiday season your senior, you will most likely be in need of a laptop for the college years. Technology giants such as Apple are already ahead of the game, with the recent release of the new Macbook pro (esc key not included), and HP with their new Spectre x360. Companies such as Google, not traditionally associated with computers, debut their newest phone, the Pixel, and Windows launches their new Surface Pro in early 2017.
---
The phone side of things
The newest iPhone, the 7, is a big step-up from the 6 and 6s. It has the largest base storage on model, and the longest battery life of an iPhone, at 13 hours. It also received an IP67 rating- which means that it is dust tight, and mostly waterproof. Prices start as low as $649.
Samsung also released their phone, the Galaxy S7. This phone comes with fourteen hours video playback, an IP68 rating (more waterproof than the iPhone 7), a headphone jack, and parallel prices to the iPhone. However a new star in the phone business has emerged, the corporation known as Google. Their recent debut of the Pixel caught phone companies off guard, and has been deemed the "Apple Killer" by some tech websites. The Pixel comes with the best camera currently on any smartphone, has 13 hours of video playback on a single charge, and can charge seven hours in fifteen minutes. However it only has an IP53 rating, so don't drop it in water! You can buy the Pixel for as little as $649.
---
The tablets that can replace a computer
A tablet is a mix between a phone and a laptop- it takes the best qualities of a laptop and a phone and puts them together. These creations will sit on your lap while you browse online, and go anywhere you go. So why not do this professionally? Apple's Ipad Pro does just this. You can buy a 9.7" edition for a starting price of $649, which comes with a 10 hour battery life, or the monstrous 12.9" version for $799.
The iPhone 7 is probably the best phone out there. It has the best damage protection of the newest phone models (better for clutzy people like me), a long lasting battery life, and overall outclasses most phones by far. Therefore I recommend it. I would almost recommend Google's Pixel phone over an iPhone, however the only thing that holds me back is that it can't handle water and dust very well.
Microsoft and Samsung have a stake in professional tablet industry as well, bringing you this holiday with the Surface and the Galaxy Tab Pro S. Marketed as "The tablet that can replace your computer", the Surface comes with a huge 12.3" screen, Windows 10 Pro, and the surface pen, however it only comes with nine hours of battery life. All for $899. The Galaxy Tab on the other hand, while it comes with only Windows 10, has a longer battery life (10.5 hours), a 12" display, comes with a keyboard, and streams Xbox games. It also starts at $899.
Tablets have always been weird to me. They always fill an odd niche, but have their uses. The best tablet on the market would have to be Apple's iPad Pro, because, in terms of specs, it beats every tablet on the market. It also comes with a huge display, and runs extraordinarily smooth- which is how any piece of technology should run.
---
Portable computers
You can't talk about technology without talking about computers and laptops. For college, especially, laptops have become nearly quintessential to the student, and it's hard these days to walk around a campus and not see people with one. For seniors, you may consider getting a new laptop for the college years. The HP spectre x360 can last all throughout the college years, coming out of the box with windows 10, a sleek, slim design, incredible processing speed, and a battery that can last for ten hours on a single charge, that charges from 0%-50% in just 30 minutes. To top it off the Spectre is touch screen. For only $899 you could own this tiny beast. Apple has a more docile, but strong approach to the rising demand of laptops. Their newest Macbook Pro's come with two sizes- 13" and 15", and come with a new touchpad, that can open and manage applications. It's Apple's take on touch screen. Their laptop's can come without the touchpad however. The starting price for a laptop without a touch pad is $1500, whereas with one starts at $1800- a little on the spendy side.
Being a senior, I recommend the HP spectre as an instrument of education and personal use. The spectre runs just as well as its competitors, costs less, and uses windows as an operating system (my preference). The spectre also comes with the ability of full touchscreen, making it a very personable, small laptop.
---
Non-portable computers
If portable isn't what you look for and you're more of a stay at home kind of guy, maybe desktops are for you. The newest iMacs come with the latest in technology- 4k and 5k monitor displays, 21.5"-27" models, and a massive terabyte of storage- you won't run out of memory. These desktops start at a cool $1099, however can go up towards $2299.
Microsoft's computer models, which is available in early 2017, is built towards the creative. The Surface Studio, with a full-touch screen, pivotable screen, and a massive 28" display, can be pre-ordered for $2999.
I recommend Apple's iMac desktop. While it does run a Mac operating system, the iMac models are beasts with tech specs, and come with amazing monitor displays. The only downside to them is that they really aren't customizable, so if you want to put in better memory you have to buy it upfront when you buy the iMac. The only downside is that they are more on the expensive side.
Leave a Comment
About the Contributor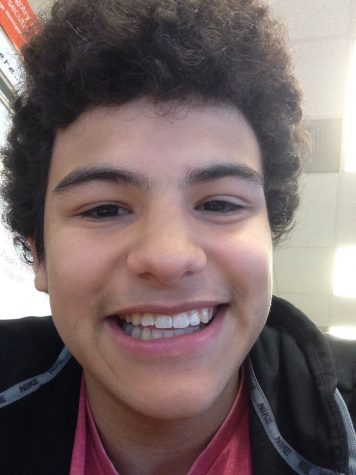 Cruz Grover, Staff Writer
Cruz is a student at Beaverton High School.