The Hummer's summer picks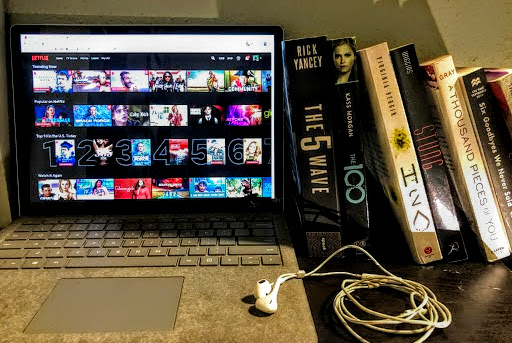 Summer is the perfect time to unwind, relax, and enjoy the plentiful weather and time with friends. But the pandemic has cut down on outdoor and group activities, leaving many people bored at home. That's where the Hummer staff comes in. Worry not, because we've compiled a list of our top TV shows, music, books, and movies just for you! 
TV/Netflix Shows:
1: She-Ra and The Princesses of Power
Take a magical girl cartoon and make it have fleshed-out characters, a diverse cast, dazzling animation, amazing story telling, and plenty of LGBTQ+ representation.
2: Avatar: The Last Airbender
This anime-inspired show follows a trio of young adults: Aang, Katara, and Sokka, as they navigate through a world where the Fire Nation runs rampant to help young Avatar Aang become a master of the four elements: earth, air, fire, and water. Along the way, they encounter devious spirits, villages in need, and Zuko, a banished prince bent on capturing the Avatar to restore his honor. 
3: Superstore
This comedy takes place in a superstore rivalling any Costco or Walmart and focuses on the hijinks and chaos within. The show follows a compelling narrative that discusses societal issues such as immigration, the lower-class struggle, and the fight for fair worker rights. The diverse cast ranges from semi-aggressive Diana (Lauren Ash) and single mother Amy (America Ferrera) to composed law school dropout Jonah (Ben Feldman) and wise-cracking Garrett (Colton Dunn). 
4: Scissor Seven
This Chinese animated series that masterfully deals out satisfying action sequences and playful and humorous situations features Seven, a semi-motivated teen with no recollection of his past, and talking chicken Da Bao, who teaches Seven how to become an assassin to earn money. At surface level, the show is a casual slice-of-life comedy with action sequences, but it shifts its focus to explaining Seven's grim past with hints and flashbacks throughout the series. 
5: Fuller House
A humorous sitcom in continuation of the 1980s show Full House, this show is about a family's day-to-day life in the house they were raised in. Their struggles, triumphs, and challenges will have anyone relating to life in a busy household.
6: The Great British Baking Show
In this fast-paced baking show, twelve bakers face a ten-week challenge where they must bake various creations. Every week brings a new theme, and the competition brings the group closer.
Music:
1: Vanessa-Mae
A Singaporean-born British violin prodigy, Vanessa-Mae began playing the violin at age five and covers classical music so they turn more techno/electropop. Top song recommendations: Contradanza, Storm, and Sabre Dance. (Storm is silent for the first thirty seconds before launching into an energetic version of Vivaldi's Storm.)
2: Arcade Fire
An indie rock band that originated in Montreal, Canada in 2000, Arcade Fire is known for its unique sound and experimentation, such as in its most recent album, Everything Now. Top song recommendations: We Used to Wait, the Reflektor album, and Ready to Start.
3: Great Big Sea
A folk rock band from Newfoundland, Canada, this now-defunct band was immensely popular in Canada but never reached high levels of recognition outside their home country. Great Big Sea not only energetically covered traditional sea shanties but also released their own songs. Top song recommendations: Captain Kidd, Ordinary Day, Feel it Turn, and Banks of Newfoundland.
4: Wolves by Kaaze & Sam Tinnesz (feat. Silverberg)
Kazze is a Swedish musician specializing in the electronic dance genre. For a year and a half, he secluded and dedicated himself to writing and producing music. The songs he wrote then were compiled into an impressive demo that landed him a recording deal in the 2010s. 
5: Find an Island by BENEE
Benee's musical debut began with covers on SoundCloud. She dropped out of college after two weeks at Auckland University of Technology to pursue a full-time music career. In 2017, she released her debut single Tough Guy and has been producing hit songs since then. 
6: Karma by AJR
This band consists of musical brothers Adam, Jack, and Ryan Metzger, who have been in the music industry since 2005. Their debut song, I'm Ready, garnered immediate attention and popularity. The band continued to release hit songs like Weak, Netflix Trip, and Burn the House Down. Their albums The Click and Neotheater are worth listening to if you enjoy Karma. 
7: Begin Again by Daniel Olsen & Jonathan Eng (feat. Linnea Olsson)
Begin Again is one of many songs in the album Sayonara Wild Hearts, which was created after a videogame of the same name. The game involves the player navigating a woman riding a motorcycle through a deserted glowing landscape, collecting hearts and dodging obstacles along the way. The game was awarded the honor of Game of the Year by Apple. 
Get the Hummer's Spotify playlist here and the YouTube playlist here.
Books:
1: And I Darken by Kiersten White
This historical fiction novel explores how history might have turned out if Vlad the Impaler had been a woman. It's a fascinating story featuring alternating POV's that delves into the history of the Ottoman Empire and what makes a true family. While it's slow to start, it's worth it. Book 1 of 3.
2: I'll Give You the Sun by Jandy Nelson
Set in California, this poetic coming-of-age novel features formerly inseparable twins Jude and Noah as they explore their relationships with other people and with themselves.
3: The Ballad of Songbirds and Snakes by Suzanne Collins
This dystopian prequel to the popular Hunger Games series stars 18-year-old President Snow as he rises to his role of the villain in the main series.
4: Artemis by Andy Weir
This science fiction novel focuses on society's newest settlement on the moon. Jazz, a teenage smuggler, is caught in a ploy to control the city and realizes it'll take a heist bigger than any she has ever pulled to take down the corrupt once and for all. 
5: The Rise of Kyoshi by F.C. Yee and Michael Dante DiMartino
Fans of Avatar: The Last Airbender will love this prequel series that examines one of the most famous of the Avatar line, Kyoshi, and her rise to power. After a dispute over the true identity of the Avatar forces Kyoshi to leave her home, she embarks on a journey to locate the daofei, an organization of outlaws, to seek revenge on someone who had wronged her. 
6: The Fountains of Silence by Ruta Sepetys
Set in 1957 Madrid, Spain, this historical fiction novel follows eighteen-year-old Daniel Matheson, who hopes to explore his mother's home country through his camera, and Ana, whose family lives in poverty under General Francisco Franco's fascist rule. Through his interactions with Ana, Daniel realizes that the pretty picture Spain paints to attract tourists is farther from the truth than he could have imagined.
7: The Serpent King by Jeff Zentner 
Dill is the black sheep in his rural Tennessee town, having only two friends, Travis and Lydia, to rely on. Bullied for his father's interest in handling poisonous rattlesnakes as a Pentecostal minister and his subsequent downfall, Dill feels trapped. In this poignant novel, Dill hits rock bottom before discovering a new life full of possibilities.
Movies:
1: The Hate U Give
Based on the realistic fiction book by Angie Thomas of the same name, this movie features Starr Carter, who speaks out for her friend Khalil, a young unarmed African American man unjustly killed by the police. This movie offers an impactful account of police brutality against black people in the United States and is a must-watch.
2: Lock Out
A man wrongly convicted of a conspiracy against the US is offered his freedom if he can break into a maximum security space prison and rescue the president's daughter when the convicts wake up after being in hibernation. This action sci-fi is for anyone looking for a fast-paced movie.
3: The Ring
A week after watching a videotape, you die. It starts with a phone call, then escalates into odd occurrences until seven days later, when you die. After four teenagers perish, a journalist investigates the tape and has seven days to unravel the mystery before she too is killed. This movie is for anyone who enjoys psychological horror.
4: To All The Boys I've Loved Before
Lara Jean writes love letters to every boy she has had a crush on, intending to keep them secret. But one day, they are mailed without her consent—and she doesn't know who's responsible. What follows this turns Lara's life around, but not in the way she expects. If you enjoy drama romances, this one's for you.
Now that school's out, try branching out from your traditional book, song, or TV tastes. You never know what you might discover. The last few months have been hectic, so take the time to unwind. We hope you have a happy and safe summer, Beavers!
View Comments (1)