Top Netflix picks, quarantine edition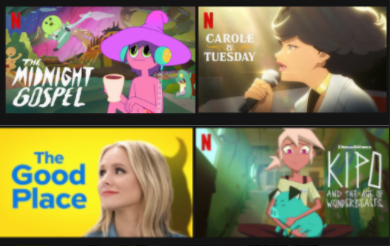 We're shut in, tucked away from the world in our own little pockets we call home. Our realities are separated, leaving time for everyone to try new things or get in a bit of relaxation. But even with people shut indoors, there's one universal truth: If you have Netflix, you're watching it. 
With Netflix being the source of an unending amount of shows and movies, it's easy to get lost in the sheer amount of films the streaming site has to offer. Many users have binge-watched their favorite shows dozens of times since the pandemic began and are in search of something new. Well, look no further! I've explored the depths of Netflix to find four shows, each with something offering a unique and enjoyable viewing experience. Let's begin!
Fun To Watch With Family
Kipo and the Age of Wonderbeasts (TV-Y7)
If you have younger siblings and often struggle to find something that you both can enjoy watching, this show is for you. Kipo: Age of the Wonderbeasts takes place in a post-apocalyptic world in which humans live underground in burrows. One of these "burrow-people"—a girl named Kipo (Karen Fukuhara)— finds herself on the surface of her world and travels through an unknown land in search of her father and people.
Along the way, she comes face-to-face with mutes—mutant animals with intelligence comparable to humans—and navigates through their various societies. Accompanying her is Wolf (Sydney Mikayla), wielding a scorpion stinger, Benson (Coy Stewart), a music-loving boy, and Dave (Deon Cole), a bug-mute with a unique outlook on life. Despite its rating, Kipo tackles various themes such as self-identity, family, and racism, all while being a treat to watch! Speaking of treats, the animation style is eye candy, comparable to the 2008 version of Ben 10. And there are lumberjack cats. Who doesn't love the sound of that?
Adventures in the Afterlife With a Twist!
The Good Place (TV-14)
Oh, no, you died! Imagine getting sent to the afterlife, only to find that they mistook you for someone else. Such is the case for Eleanor Shellstrop (Kristen Bell), who finds that she miraculously ended up in The Good Place, an afterlife utopia full of peace, puppies, and frozen yogurt. Eleanor finds herself assigned to her soulmate Chidi (William Jackson Harper), a philosophical, indecisive ethics professor. Eleanor, realizing that she will most likely be sent elsewhere if she is found out, convinces Chidi to give her lessons in philosophy and morals so she can become a good person and stay in The Good Place without being found out. 
Various lessons and antics ensue, and Eleanor and Chidi band together with the prim Tahani (Jameela Jamil) and a not-so-silent monk named Jason (Manny Jacinto) to figure out how to navigate their imperfect afterlives. The most enjoyable aspects of this series are its refreshing introduction to both philosophy and ethical dilemmas and how they play out in the afterlife. There's also an amazing twist at the end of the first season that alters your entire perception of the series and what comes after it! The first three seasons are available on Netflix, making it a binge-worthy show with both depth and humor. 
Relaxing and Musical Slice of Life Anime
Carole and Tuesday (TV-MA)
If you're a fan of slice-of-life shows with a twist, you'll enjoy Carole and Tuesday. Taking place in the distant future on Mars, the anime follows Carole (Jeannie Tirado), a lone girl juggling odd jobs during the day, and Tuesday (Brianna Knickerbocker), a girl running away from her life of wealth and comfort, and how they band together in a world where human-made music is a thing of the past. The show's antagonist, Tao (Kyle McCarley), focuses on perfecting AI that can produce catchy tunes without the need for human "interference" but quickly shifts to hiring musical newcomer Angela (Ryan Bartley), who's bent on becoming a famous singer. 
There's plenty of intense situations that Carole and Tuesday get into while having the show dive into the more adventurous aspects of trying to become famous—meeting celebrities, being the opening act at a concert, and even making homemade music videos! This anime feels as if it is aimed to reach the 14-18 demographic, but it has its fair share of dirty jokes and mild language that gives it an MA rating. It also has an amazing digital soundtrack. If you enjoy a futuristic setting and a musical underdog story, this show is for you.
Honorable Mention: Podcast Animated!
The Midnight Gospel (TV-MA)
This show is a trip—literally. Recently released on April 20, Midnight Gospel follows the adventures of rookie space-caster Clancy (Duncan Trussel) and his journeys to simulated universes, where he interviews countless organisms. Their discussions range from the use of marijuana to handling dark thoughts and even how permanent a mother's love is. One episode that stood out was a discussion over death and that there is no way to fully prepare to die—and how one must accept their demise to be at peace. 
The show is based on a podcast run by show creator Duncan Trussell, where various segments of the podcast were selected and animated. But Midnight Gospel receives the Honorable Mention title because the show's format creates a lack of story in most cases, with the bulk of most episodes being dedicated to the podcast discussion instead of traditional plots seen in tv shows. On a technical level, it feels unjust to say that the show is its own separate product from Trussell's podcast. 
In several episodes, the story told in the world around Clancy was more attention-catching than the discussion taking place—specifically a story involving a rebellion against an empire of meat-loving parasites. But this show has its fair share of gore, with some of its more brutal and well-animated scenes involving meat harvesting and childbirth. Midnight Gospel excels in its own philosophy and doesn't fear discussing difficult subjects. If you enjoy animated podcasts with unique situations and intriguing side stories, check out The Midnight Gospel. 
This wasn't my complete list of recommended shows, but rather a condensed collection of shows that deserve more attention. I hope you will find something in one of these shows that touches you, makes you think, or makes you laugh. Either way, these shows are bound to keep you entertained.
Leave a Comment
About the Contributor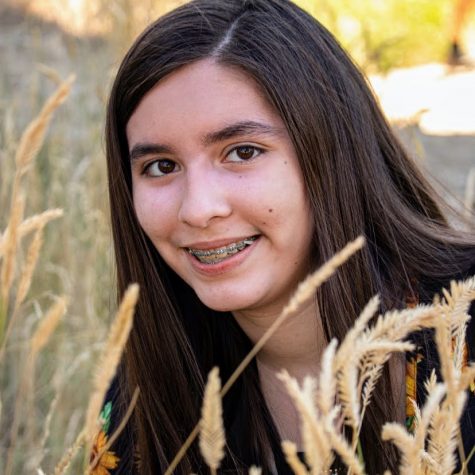 Cassidy Ochoa, Staff Writer
Cassidy is a senior at Beaverton High School. She writes for The Hummer and considers herself the queen of puns.