There's a secret behind Oregon's state pie
As the weeks get shorter and the weather gets colder, celebrate with the best fall food ever: pie. But not just any pie will do. In the past few weeks, an exciting Oregon legislature has been passed to make marionberry pie Oregon's official state pie.
Many of you may be wondering, "What is a marionberry?"
Beaverton High's very own marionberry expert, Richard Turner, an English teacher, is here to put all marionberry myths to rest. 
"They're actually from [Germany], and they were brought over by Luther Burbank, a plant-breeder who said, 'Wow, I bet these would go really good here, I could breed them into something cool.' So he did, and he made several different varieties of blackberry and they escaped from his farm, and now are one of the worst invasive species in Oregon," said Turner. "So Oregon State University said, 'We need to develop other varieties [of blackberries] that are less invasive.' and they did. The marionberry was developed out in Marion County and are literally just oversized blackberries."
So, what would be Turner's ideal marionberry pie?
"Well, it would be a sugar-free pie because you don't need any sugar," Turner said. "The crust, of course, has to be a graham cracker crust with a crumble topping, with just a little bit of oatmeal, a little bit of molasses, and a little bit of honey so it kinda melts a little bit, but not too sweet."
To celebrate the new state pie, Shari's Cafe and Pies is having a month-long deal on their classic pies. To make sure the pies are legit, us here at The Hummer decided to save readers the trouble of buying the pie themselves and give a short review.
"It has a nice consistency, kinda like jelly," said Amanda Piril. "The taste is a little sour but it grows on you after a while. The crust had a nice color and is quite flaky, and it was slightly dry, but would taste nice with a glass of milk. Overall, I'm impressed. This gets four out of five stars!"
My thoughts on the pie mirrored Amanda's. The crust is quite dry, but some milk or coffee would make the pie taste fantastic. The presentation was nice, with little sugar crystals sprinkled on top. It's a nice touch on a nice pie.
So, celebrate Oregon's state history with a warm marionberry pie this autumn, and go out and buy one or make your own before the season's over.
View Comments(1)
About the Contributor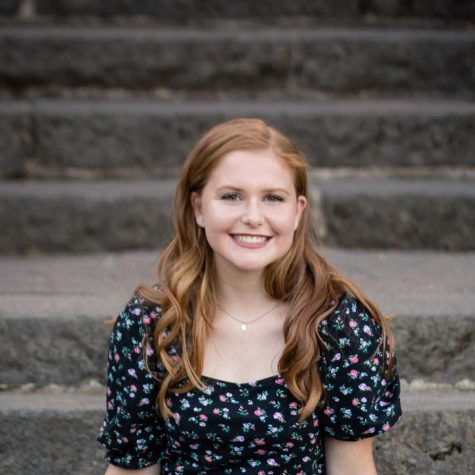 Kathryn Burris, Staff Writer
Katie is a senior at Beaverton High School.