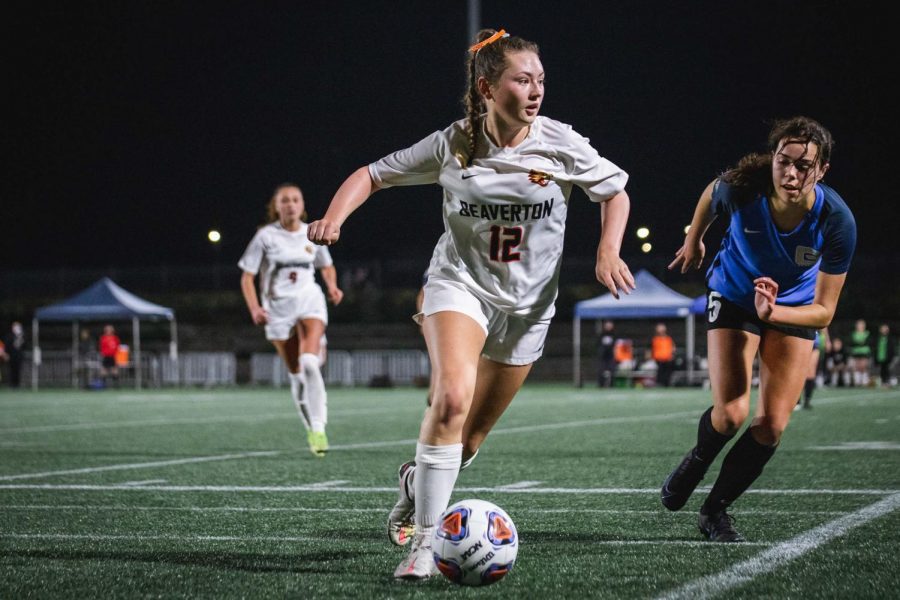 Henry Kaus
It's been a thrilling season for girls' soccer, ending in a historic playoffs run. For the first time since 1991, Beaverton made it to the state championship, and it's the second time the team has made it past the first round of playoffs in the past seven seasons. On November 13th, the Beavers took the field in Hillsboro to battle it out against the Grant Generals for the title. 
Beaverton came out to face immediate attacks from Grant's speedy offense. Grant players Elle Frazier and Kate Ratanaproeksa downed the Beavers 2-0 in the first twelve minutes. It was looking bleak for the Beaver's championship hopes, but junior Natalie Drotzmann and senior Lauren Ashe equalized the score by the end of the first half.
"It was a wake-up call," said Drotzmann. "But we never got negative, just kept playing our game and it paid off with those two goals before the half."
The score remained tied throughout the second half with Grant outshooting Beaverton six attempts to one. Two minutes into overtime, the Generals' Katarina Roesinger curled in a shot to hand Grant the lead. Beaverton quickly rebounded 46 seconds later with a goal from junior Roxanne Rundle. Three minutes later came the game-winner for Grant: Roesinger passed to Frazier, creating a one-on-one with goalkeeper Brielle Fernando, who came out of the goal to defend. Final score: 4-3. 
The championship had many firsts: Grant claimed their first state title in program history, Beaverton appeared in a final for the first time in decades, and Jesuit didn't win for the first time in three seasons. 
This season put Beaverton on the map again. In the 1980s, under coach Bert Halewyn, Beaverton commanded the field, making it to states seven times and winning in '86, '87, and '88. No other coach has brought Beaverton to state championships. 
Coach Jennifer Kirwan started coaching at Beaverton seven years ago and became head coach four years ago. She recognized the potential for this year's team. 
"Prior planning prevents poor performance," said Kirwan. "We got into the championship match because of the commitment of our entire program who took advantage of training in the off-season." 
Kirwan said one of the best aspects of coaching the team is seeing the growth of players on the junior varsity teams, not just varsity.
"The program-wide unity is what I have enjoyed the most and the progression you see in the development in players," she said. 
Drotzmann believes the seniors have inspired players throughout the program to continue this season's excellence.
"This year's senior class has taught all of next year's returners a lot and they've raised that bar high. Hopefully, we reach it and continue growing the program," she said.