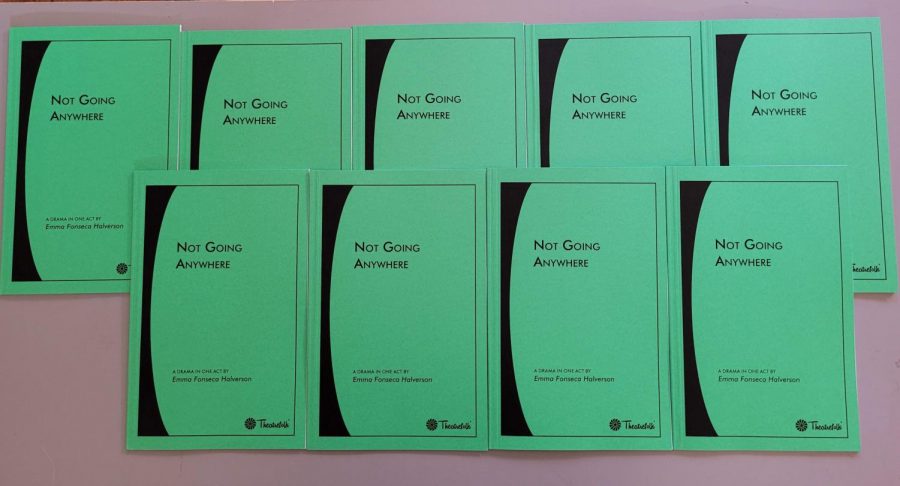 Emma Fonseca Halverson
Beaverton High School freshman Emma Fonseca Halverson has loved theatre for nearly all of her life. "I started when I was six, taking classes," she said, "and what drew me in was just the ability to tell a story in such a tangible way."
While their interest in playwriting was only sparked a couple of years ago, it's already born fruit in the form of a one-act drama called Not Going Anywhere, which tells the story of a struggling Mexican family of four that Immigration and Customs Enforcement (ICE) is trying to tear apart. The play began as a middle school assignment last year, but over the summer, Fonseca Halverson's theatre teacher suggested she submit the piece in answer to a call for BIPOC playwrights. 
"My favorite part of the process was probably the drafting before I started editing because it was very chill and I got to experiment with what I wanted it to be," said Fonseca Halverson.
She revised the piece with editors from August to January before it was published over spring break, and received the email notifying her that her play had been published while on a walk home. 
"I was very excited," Fonseca Halverson said. "I went running the rest of the way home to tell my parents. I had been trying not to get my hopes up before, but it felt really good to have that."
The play is rooted in Fonseca Halverson's family history. "It was a little bit easier for me to write this one because my father is an immigrant, and so he could give me a lot of insight on that process and Immigration and Customs Enforcement and the impact that that has," they said. "I feel like his experience gave me a lot of inspiration for that."
Due to these themes and the identity of the characters, Fonseca Halverson prefers actors to be Latinx and have a working knowledge of Spanish. "Having representation—accurate representation—for the audience is really important because if you're a person who is Latin or Latinx, and you're going to see the show, it's really disheartening to see white people try to portray that experience accurately," they said. "And also, just for the more logistical side of it, just speaking Spanish would make it easier for the Spanish parts of the play," which is half in Spanish.
These stipulations may soon become relevant to Beaverton High's thespians. "We are so proud to have Emma here at BHS, and we look forward to bringing Emma's play to life on our stage as soon as we are able!" said BHS theatre teacher Shannon Dery.
What Fonseca Halverson wants for their play is that future audiences take a more personal approach to the topic of immigration after viewing the play. "I would hope that audiences would leave questioning some ideas that they have on immigration. The lens that we have through that is often very political."