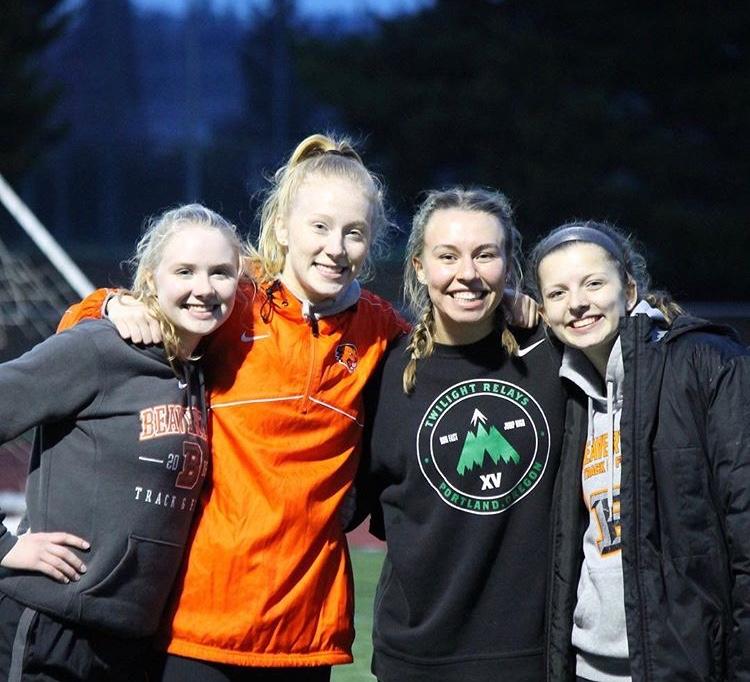 Natalie Perkins
The Top Line
As Beaverton's track season kicks off, the team shows the league who's in charge as they win the first two meets, first against Liberty and now in an impressive victory against Mountainside High School. Even though the Mavericks are a younger team, being only freshmen and sophomores, their team is massive. But they couldn't intimidate the Beavers.
The Game
For the field events on the girls' side, the shot put and discus both swept winning spots of 1, 2 and 3. The javelin throwers placed first and third place. Senior Sydney Namdar was a standout player, placing first in both shot put with a distance and PR of 36.5 inches and javelin with a distance of 111 feet 1 inch.
For the high jump, Beaverton went 1 and 2 with Lily Reynolds placing first with a jump of 5 feet 4.25 inches. In the pole vault, the Beavers placed first, second and third. Fatima Beltran-Alvarez placed first with a PR of 8 feet. In the long jump event, Beaverton placed first and second and in the triple jump, they went 1, 2, 3.
The boys' throwing events did well. In the shot put, the boys went 1, 2, 4 and all of them hit PR's. Junior Ryan Turner placed first with a throw of 42.2 inches. The boys swept in the discus with sophomore, Antonio Longoria placing first with a throw of 116 feet 5 inches. In the javelin, the boys swept too. Senior Logan Bedell placed first with an impressive PR of 158 feet 4 inches.
The boys swept in the high jump. Senior Logan Bedell placed first with a jump of 5 feet 10 inches. They also excelled in the long jump, pole vault, and triple jump. Many PR's occurred in this meet, racking in points for the Beavers.
In the running events, the sprinters placed first and second in the 100-meter and 200-meter for the girls and first in the 400-meter and another first place in the 3000-meter. The men placed first and second in the 400-meter, 800-meters, and 1500-meter, 1, 2, 3 in the 200-meter.
The Breakdown
The boys scored 118 points and Mountainside scored 27 points. On the girl's side, varsity scored 105 and Mountainside scored 29. This was a sweet victory for the Beavers.
The Locker Room
Junior Fatima Beltran-Alvarez was pleased with the meet and her performance. "I was really excited to have shown Mountainside the type of team we are. I did really well in this meet and hope that our team continues to reflect how hard we are all working on our meet results."
The Bottom Line
After Beaverton crushed Mountainside, it is safe to say that the team started off the season strong. As one of the top teams in the district, anyone who is about to compete against Beaverton should watch out.