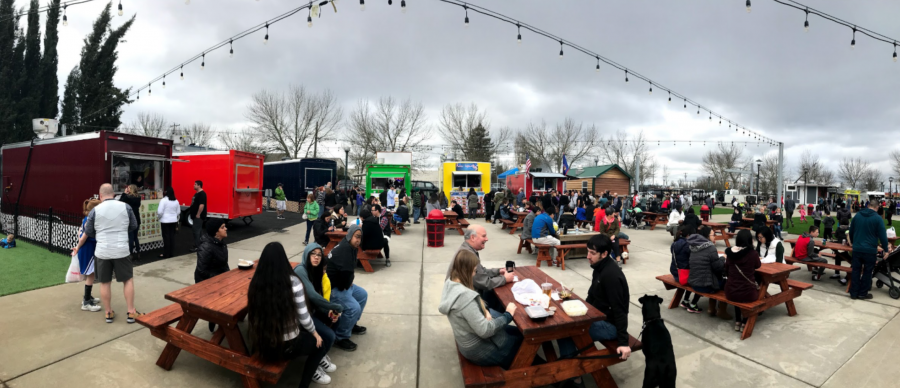 Alexander Phan
Located on the corner of SW Millikan Way and Rose Biggi Ave is Beaverton's first food cart pod, BG's Food Cartel. The pod is set to include 31 different food carts and is able to accommodate up to 150 guests with both inside and outside seating. Many individuals in the area are excited about the richly diverse addition to the city.
For those of us who've been living in the central Beaverton area for many years, we've seen a lot of changes happening recently. Is Beaverton turning into Portland?
The property where the pod is located is owned by the Biggi family, which has been present in the Beaverton area for many years.
"Beaverton will always have a different feel and identity," said Domonic Biggi, a Beaverton High School alumni. "Suburban life is just unique to downtown life. Beaverton's identity is evolving. It was a small farming town with a train stop for my grandma. It was an emerging suburb for high tech and neighborhoods for my dad. It is becoming something different yet again. Progress."
There's been a positive response by the public to the food pod. "We got instant positive feedback from everyone we went to [the] City of Beaverton staff really went to bat for us. Really found zero detractors in our startup exercises. Made us think we were on to something good," said Biggi. He was inspired to found this place with the introduction of a restaurant in Portland by his sister.
The atmosphere at the food pod is different than those in Portland. Whereas in most food pods in Portland have a more "on the go" vibe, the one here in Beaverton is more of a "backyard barbeque" vibe. Beaverton's pod is equipped with an array of picnic tables and plenty of overhanging fairy lights.
There are many food options available, so it's the perfect place to go with an indecisive group. "There were a lot of different options, but [my friend] Natalie recommended trying the poke," said Beaverton High School student Alyssa Soriano. "I was afraid to try it, but it was good!"
By the looks of it, it won't take long until the BG Food Cartel becomes the next popular hang out spot.
One of the places that I went to try out was Asian Legend, a cart that serves an array of different Asian inspired cuisines. I got two steam buns with pork and an order of honey walnut shrimp. The portions were pretty good as well as the taste. The experience with the staff and the atmosphere of the surrounding area was nice as well.
With such a positive response from the food pod, the City of Beaverton's identity continues to grow. The addition of BG's Food Cartel is a statement piece for the city and showcases the diversity of the cultures that exist in the community.